McDonald's Corporation
Maurice and Richard (Mac and Dick) McDonald opened a drive-in restaurant in San Bernardino, California, in 1937. In 1948, the brothers moved away from the traditional carhop operation of that era, going to a model that resembles today's fast food restaurants, complete with a limited menu and premiums for children. The key to their success was the implementation of the assembly line-style operation that fast food restaurants are known for – a carefully-designed kitchen with a detailed production process. By 1950, they were advertised "Over 1 Million Sold," and when Ray Kroc, a milkshake machine vendor, learned that eight of his Multimixer machines were at use in the restaurant, he decided to pay them a visit.
All three of the men must have been impressed, because Kroc convinced Mac and Dick to start selling franchises, and they hired Ray Kroc to work as their franchise agent. The following year, 1954, the business was incorporated – it would become McDonald's Corporation in 1960 – and the franchise machine kicked into gear, with the first restaurant opening in Des Plaines, Illinois on April 15, 1955. By 1958, there were 34 restaurants, and in 1959, another 67 opened. (As of 2009, there are more than 31,000 McDonald's restaurants in more than 119 countries around the world.)
In 1961, the McDonald brothers sold all rights to Ray Kroc for $2.7 million. Ray Kroc remain in charge until he retired as CEO in 1973. Kroc died in 1984, and the following year, McDonald's became one of the 30 companies that form the Dow Jones Industrial Average
Speedee was McDonald's first advertising symbol, until replaced by the Golden Arches campaign in 1962. The following year, 1963, Ronald McDonald made his first appearance, played by a young Willard Scott.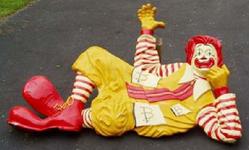 A Ronald McDonald wall sign. (p4A item # D9984862)

Further Recommended Reading:
Collectibles 101: McDonald's Happy Meal Toys by Joyce and Terry Losonsky
McDonald's Collectibles: Identification and Value Guide by Gary A. Henriques and Audre DuVall
McDonald's Glassware by Joyce and Terry Losonsky