Elijah Pierce (1892 to 1984)
Elijah Pierce was born on March 5, 1892 on a Mississippi farm, the son of a former slave. After receiving a pocketknife from his father, Elijah began carving. It might not have amounted to much without the guidance of his uncle, Lewis Wallace, who helped him learn the basics, like choosing the right kind of wood for a project. By the age of seven, he was carving small animals based on the farm animals that surrounded him, often carving while he sat on a creek bank watching his fishing pole. Even as a child, he was generous with his work, giving his pieces away to anyone who admired them.
Farming in Mississippi was hard work, and it didn't take Elijah long to decide that he wasn't interested in following his father into farming. Instead, he opted to pursue a career as a barber, learning his trade in a Baldwyn, Mississippi barbershop. Pierce began to experience a little prosperity, marrying Zetta Palm and settling into a home. Sadly, Zetta died within a year or so of their marriage, giving birth to a son, Willie, and Pierce sank into a depression, rambling around the country, riding the rails and working odd jobs. Whenever he found his way back to Baldwyn, his mother would encourage him to follow the religious calling she always believed he had.
Finally, in 1920, Pierce began to recover and acquired a preaching license, but he didn't stay put for long. Between the freedom his license offered him and the security of work as a barber, he decided to join the Great Migration, moving north to Illinois. While in Danville, Illinois, Elijah Pierce met Cornelia Houeston, a young woman from Columbus, Ohio. In 1923, when Houeston returned home, Pierce followed her, asked her to marry him, and set about making a life for them in Columbus.
Work at the barbershop took care of the Pierce family, and Elijah used his spare time to continue carving the little wooden figures he'd enjoyed crafting since childhood. After carving Cornelia a tiny elephant for her birthday and promising her a whole zoo, the animals started coming thick and fast. By the 1930s, he started mounting figures, sometimes on wood, sometimes on cardboard, and in 1932, he completed what would become his best-known work, Book of Wood, a series of individual scenes carved in relief and depicting the life of Jesus. (Several of these pieces, along with the bulk of Pierce's museum-held works, are in the collections of the Columbus Museum of Art.)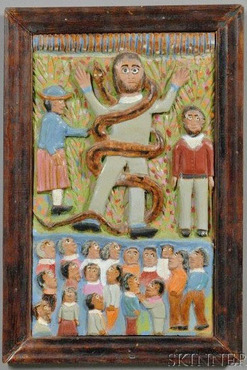 An Elijah Pierce carving of a man and a serpent – typical of the religious themes frequently present in his work. (p4A item #
D9801915)

Cornelia died of cancer in 1948, and by 1951, Pierce had opened his own business with a barbershop on E. Long Street in Columbus. In 1952, he married again after meeting Estelle Greene, and Pierce continued to enjoy a good life with a thriving business, community respect, and time to pursue his interests in baseball, boxing, movies, and, of course with a barbershop setting, politics – all themes that also appear in his carvings.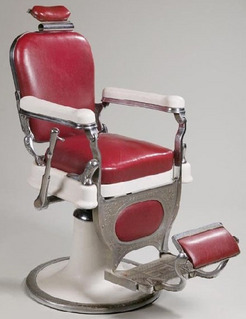 Elijah Pierce's barber chair from his E. Long Street shop in Columbus, Ohio. (p4A item # D9822026)

It would be another two decades, the early 1970s, before the larger art community learned about Pierce. After a chance encounter with an Ohio State University graduate student at a YMCA art show, Pierce's career as an artist became a whirlwind, with exhibitions, international recognition and a National Endowment for the Arts National Heritage Fellowship following. Elijah Pierce passed away on May 7, 1984, and posthumously, a gallery in the Martin Luther King, Jr. Performing and Cultural Arts Complex was named in his honor.