Hires Root Beer The Great Health Drink stone lithographed sign with Ugly Kid image

p4A ItemID D9667093

A Hires Root Beer wooden barrel dispenser with metal bands and Real Root Juices R-J label

p4A ItemID E8933489

A Hires ceramic soda fountain syrup dispenser with pump

p4A ItemID E8925524

A Hire's It Is Pure ceramic syrup dispenser

p4A ItemID F7955255
Hires Root Beer
While traveling in 1875, Charles E. Hires, a Philadelphia pharmacist, first tasted root beer. Root beer, traditionally made with sassafras, was a popular "small beer" or low-alcoholic drink in the colonial era, and was becoming popular in an alcohol-free format. While root beer has a long history, it has a wide range of recipes that call for everything from birch bark to vanilla, molasses to juniper berries, so Hires set out to create his own version, which he initially sold as packets of powder. Soda fountain owners or housewives would buy the packets for a quarter, and by adding water, yeast and sugar, they would have five gallons of root beer or root tea, as it was occasionally called.
With the encouragement of a friend, Hires took his product to the Centennial Exposition, held in Philadelphia in the summer of 1876. He gave away free glasses of root beer, which were surely appreciated during the hot Philadelphia summer, and he also made the smart marketing move of advertising it as a "temperance drink" while the temperance movement was picking up steam.
Hires marketed his root beer with slogans like "The Temperance Drink" or "The Greatest Health-Giving Beverage in the World," but he did draw fire with the word "beer." On the one hand, it was believed that calling the mixture root beer would give the product a boost from the popularity of beer at the time, but on the other, Hires had to work to convince the temperance folks that his drink was alcohol-free.
In the years following the Exposition, Hires continued to market his drink to the temperance crowd, and he also developed a liquid extract or syrup for use in soda shops. He began to ship root beer in kegs, and he even patented a dispenser called the "Hires Automatic Munimaker" that he sold to the soda fountains that were popping up everywhere. By 1890, Hires had formed a corporation, and the company began bottling root beer.


One of the Hires Automatic Munimakers. (p4A item # D9798307)

In 1960, the USDA banned sassafras based on the presence of a potential carcinogen in sassafras oil, which altered the production of root beer for a time. With the development of a method to remove the oil from sassafras root, sassafras is present in root beer again. Hires is still in production, now as part of the Dr. Pepper Snapple Group Inc., and is considered, along with Vernor's ginger ale, to be one of the longest continuously manufactured soft drinks in the country.
Today Hires Root Beer advertising material is very popular with collectors, from tin trays to dispensers to mugs. Especially popular are items from the 1910s depicting what collectors refer to as "the googly-eyed man." This young man was an actual person, Josh Slinger, and a soda jerk!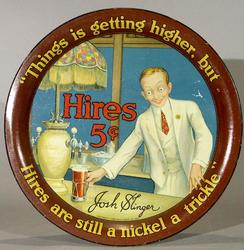 A Hires advertising tray featuring Josh Slinger, the Googly-Eyed Man. (p4A item # C244349)

Hollie Davis, Senior p4A Editor, June 25, 2009