Robert Spring, Forger (1813-1876)
Robert Spring was born in England in 1813, but little is known about his life until he emigrated to the United States. By the 1850s, he was in the Philadelphia area and working as a bookseller.
Successful forgeries require access to the requisite materials, and in many ways, paper-based forgeries are some of the easiest to perpetrate. More than one dealer of books and ephemera has come to realize that with a period recipe for ink, a sharp razor and a store full of books printed on old paper and containing blank endpapers, they have everything necessary to set up shop as forgers.
At least, that appears to be how Spring got started on his new career as a forger. Initially, he used his own ink recipe and sheets cut from books, but as time passed and he grew bolder, he also began to work on contemporary paper. He forged documents in the name of numerous historical figures like Benjamin Franklin and Admiral Horatio Nelson, but is probably most associated with his forgeries of George Washington's signature. (After the Civil War, Lincoln would quickly rise in prominence to rival Washington as the most beloved president, but until Lincoln's assassination in 1865, Washington was by far the most widely revered and celebrated, making books and documents with his signature some of the most desirable.)
Another challenge to successful forgeries is forging not only in the hand, but also 'in the voice' of the historical figure. This explains why many forgeries tend to be official or household administrative documents or simply signatures. Recreating a letter in the tone of George Washington writing a letter to his wife is far more involved and laborious and far more susceptible to scrutiny than forging a simple receipt for payment to a local doctor or a brief request for a military report.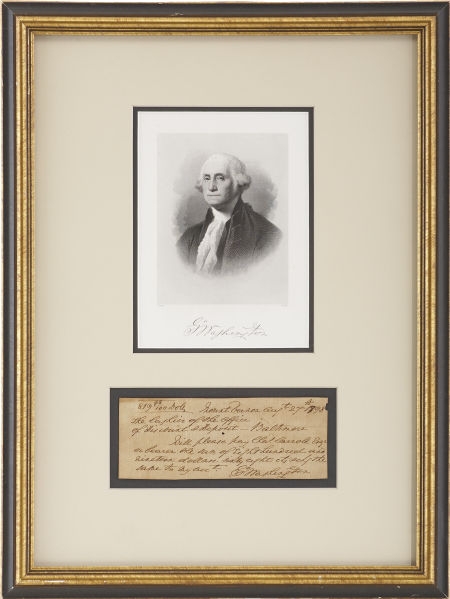 One of Spring's standard forgeries – a check allegedly written and signed by George Washington on the Office of Discount and Deposit in Baltimore, Maryland. (p4A item # D9741447)

Again, Spring did just this – forging any number of payment orders and officious-sounding requests. Some of his more common forgeries were a George Washington-signed pass to cross American lines, a George Washington handwritten check draft on the Office of Discount and Deposit in Baltimore, and a George Washington-signed letter to Jabez Huntington, Windham, Connecticut sheriff, ordering the release of a prisoner, just varying names and dates in all three cases. On the occasion that he acquired authentic documents, he would often trace copies that he would 'age' by staining them with coffee grounds, selling as many copies as he liked, but he was practiced enough in Washington's hand to forge George Washington documents freely.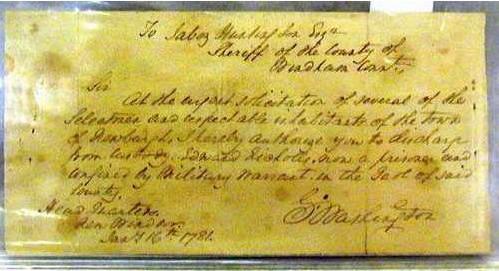 One of many of Robert Spring's forged George Washington letters to Jabez Huntington in Windham, Connecticut. (p4A item # A071435)

Forgers also need to create a believable provenance or history for their documents, and Spring found it useful to pose on several occasions as a widowed woman or impoverished daughter, selling her family papers cheaply in order to deal with money problems, either contacting customers directly in this guise or using it as a cover story to 'broker' sales for the woman.
The law began to catch up with Spring in 1858 when he was arrested for receiving money under false pretenses, but he managed to post bail and fled to Canada, where he went right on forging papers and posing as a widow to sell them. After a few years, Spring felt it was safe to return to the U.S., settling in Baltimore this time, where he decided it might be safer to keep the Atlantic between him and his customers. This also allowed him to change his focus and capitalize on the British love of the Confederacy. Posing as a daughter of the celebrated general Thomas 'Stonewall' Jackson and using the same hard-luck story he typically used, he began dealing more heavily with British and Canadian autograph collectors.
By 1869, Spring's luck ran out when he apparently began to conduct business too close to Philadelphia. He was arrested in that city and confessed his crimes in some detail, offering a great deal of what we know about his methods and forgeries. After spending several years in jail, Robert Spring was released and died in Philadelphia in a charity ward on December 14, 1876. While Spring's forgeries have acquired a certain value among collectors for their history, like those of Harry Dayton Sickles and Eugene Field II, his documents may well remain unidentified in dozens of public and private collections around the world.
Hollie Davis, p4A Senior Editor, March 8, 2010