Blenko Glass
Art Glass of the Atomic Age 1950-1960
William Blenko had success as a manufacturer of stained glass. While that business dried up with the arrival of the Depression, by 1932 his tableware was on display at Macy's. Today, collectors look for Blenko's signature pieces in exaggerated sizes, bold shapes, and brilliant colors.
Brief History of Blenko Glass
Born in 1853, William J. Blenko began learning his trade at the age of 13 working in various glass houses in his native London. In 1893 he emigrated to the U.S. anxious to open his own factory manufacturing mouth-blown sheet glass for stained glass windows. From his first small shop in 1903 until his success with Eureka Glass, he started and folded a number of concerns. Blenko spent years developing a formula for ruby red sheet glass, and today, the Blenko name is synonymous with brilliantly colored glass.

Blenko blue glass art vase circa 1960
p4A item C224494
The Eureka Glass Company had a successful run as the only American manufacturer of mouth-blown sheet glass until the Great Depression when building came to a halt, and with it, the demand for stained glass windows. In 1929, Blenko hired a pair of Swedish part-time glass blowers and began producing the hand-blown tableware for which the company is famous today.
Blenko Tableware: Bold Forms & Brilliant Colors
By 1932, Blenko tableware was sold at Macy's, and before long department stores all over the U.S. stocked their extravagantly colored bottles, decanters and vases. The earliest pieces were heavily influenced by Swedish designs, but the best pieces may be from 1946-1953. During this time, Blenko hired its first in-house designer, Winslow Anderson. One of Anderson's signature designs, the Bent Neck Decanter is in the permanent collection of the Museum of Modern Art in New York. The company's next designer, Wayne Husted (1952-1963) was responsible for the over-sized bottles and architectural floor pieces that are popular with today's collectors.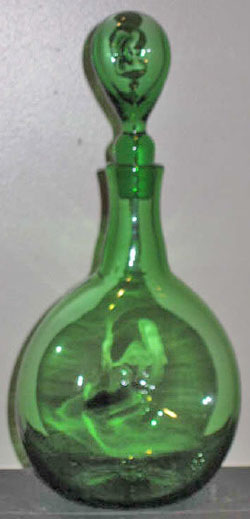 Wayne Husted for Blenko green glass pinched decanter with stopper
p4A item D9881635
Collecting Blenko Glass
Identifying a Blenko piece is difficult, as except for the years from 1958-61, when the manufacturer's mark was etched, Blenko applied paper labels, which these days, are almost always missing. The best way to be sure to purchase a real Blenko piece is to be familiar with the product lines as well as some of the manufacturing quirks including rough pontil marks (the part of the piece that was attached to a holding rod after being separated from the blow pipe) on the base, rounded and sometimes uneven fire polished rims, and thick walls. Generally speaking, the largest pieces have the highest values. Because they were easily broken and damaged, they are harder to find than smaller pieces.
Collectible Blenko Glass Colors
Blenko was justly famous for its intense colors, and collectors seek pieces in their signature and out of the ordinary colors such as Mulberry, Lime, Aqua, Plum, Gold, Tangerine, and Lime. The most valuable pieces, which can sell for a few thousand dollars combine unusual forms, brilliant colors, and named designers.
Reference: Miller, Judith; Buy Keep, or Sell Reader's Digest Books c2005.
Reference note by p4A contributing editor Susan Cramer.