George Nelson (1908-1986)
George Nelson trained as an architect before joining the Herman Miller (furniture) Co. and becoming its design director for the 1950′s and 60′s. From this position Nelson became one of the most influential modernist designer's in mid-century America.
Among Nelson's furniture designs to have become 20th century design classics are the "Marshmellow" sofa (1956), the Ball Clock (1949), the "Slat Bench", the "Sling Sofa" (1960′s), his "Bubble" and "Cigar" lamps (1952) and the "Coconut" chair. Complementing these classics were his designs for accessories, including the "Ball" and "Dowel" clocks. In commenting on his work Nelson said "Design is a manifestation of the capacity of the human spirit to transcend its limitations."
The Atom Clock and Other Designs by George Nelson
Cartoon office grunt Dilbert may not thank George Nelson for the office cubicle, but collectors of Mid-Century Modern love his other designs. Nelson helped bring the modernist design philosophy to America in the 1940s and his best pieces are still to be found in today's interiors.
George Nelson Bio
George Nelson studied architecture at Yale University where he won the Prestigious Rome Prize that took him to Italy to study from 1932-1934. During his time in Italy, he was introduced to the work of Modernist designers Ludwig Mies van der Rohe, and Le Corbusier who had a huge impact on Nelson's work. Nelson was so impressed with the design philosophy of the modernists that he introduced it to the United States via a series of essays and articles in Architectural Forum which he edited. His book, Tomorrow's House, co-written with Henry Wright also helped bring the modernist view of architecture and design to a wider American audience.
In 1936, Nelson opened a practice with fellow architect William Hamby, and joined the faculty of the school of architecture at Yale University. During his tenure at Yale, Nelson developed ideas for pedestrian shopping malls and storage solutions for residential applications.
The Nelson Years at Herman Miller
George Nelson's greatest impact on the world of design was during his tenure as Director of Design for furniture manufacturer Herman Miller. During this time he supported the visionary work of young designers such as Ray & Charles Eames and Isamu Noguchi. Nelson brought the modernist ideal to Herman Miller, which was, until that time a manufacturer of traditional office furnishings, helping the manufacturer develop the reputation for leading edge design it enjoys to this day.
Action Office
In 1964, Nelson produced his most innovative concept, and one that would forever alter the landscape of corporate offices around the globe-the Action Office System, a new way of creating workspace with a series of moveable space dividers and storage units.
George Nelson's Coconut Chair
Nelson designed the Coconut chair in 1955, during his time with Herman Miller, getting the idea for the curving triangular chair from the seed for which it is named. A plastic shell with a foam pad upholstered in fabric or leather sits on a tripod of slim chromed legs.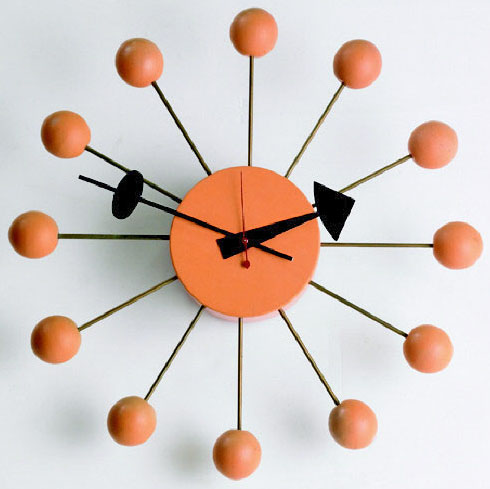 George Nelson vintage orange ball or atom wall clock for Herman Miller
p4A item D9881595
The Ball or Atom Clock
His products for clock manufacturer Howard Miller are probably some of Nelson's most famous works. The Ball or Atom Clock was designed in 1949, and there is some talk that this particular clock was the brainchild of a collaboration of designers F. Buckminster Fuller, Irving Harper, and Isamu Noguchi together with Nelson. The Ball or Atom clock is still a part of the Howard Miller Catalog today.
-Reference note by p4A Contributing Editor Susan Cramer.
Reference: Miller's: Collecting Modern Design
by Sally Hoban, c2001 Octopus Publishing Group.