A pair of Louis XV-style bronze-mounted and inlaid guéridons, 19th century

p4A ItemID F7945285

A Louis XVI-style mahogany and marble-top gueridon table, circa 1900

p4A ItemID F7938834

A Louis XVI-style inlaid mahogany gueridon, late 19th century

p4A ItemID F7929851

An oak Gueridon table model (no. 401) by Jean Prouve, France, 1940s

p4A ItemID F7914576
Gueridon
Gueridon has unclear origins, but the French word has come to mean something similar to "decorative candlestand." When the word originally came into use, it tended to refer to a small table with a circular top and the distinctive feature of a central figural support. The figures were usually Moorish or Indian. The form evolved and gueridon continued to be applied to three-legged tables with figural-carved legs, and during the Louis XV and Louis XVI periods, a gueridon became what we know it as today – a small, movable table of Continental origins, often used as a lamp or candle stand.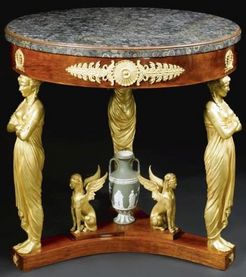 An Empire-style mahogany gueridon. (p4a item # D9858661)

Hollie Davis, p4A Senior Editor, with additional information from The Getty's Art and Architecture Thesaurus at
http://www.getty.edu/research/conducting_research/vocabularies/aat/
.