Alvar Aalto (Finnish, 1898-1976)
Arguably Finland's most famous architect, Alvar Aalto was undoubtedly a major influence on the design as well as the technology that led to Mid-Century classics.
Alvar Aalto Brief Biography
Aalto (1898-1976) studied architecture at the Helsinki Polytechnic from 1916-1921, opening his first architectural office in 1923. By 1929, he was designing interiors and their accessories, including furniture, textiles, glass, and lighting. His fifty year career spanned all the stages of Modernism, from the beginnings of modernism, and into Scandinavian Modernism through 1970s style modern. In 1939, Aalto designed Finland's pavilion for the 1939 New York World's Fair, gaining him world wide acclaim. Although his designs evolved over the years, his seating designs never strayed far from the Modernist ideal that an object's form should relate to its function.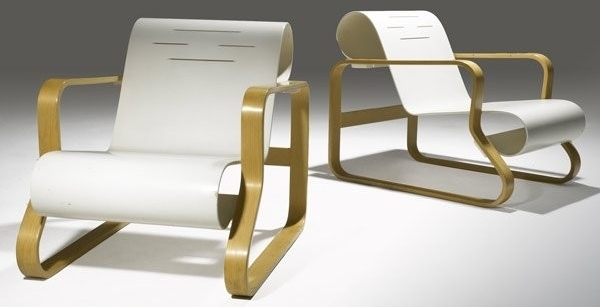 Two Danish Modern bentwood lounge chairs by Alvar Aalto for Artek
p4A item D9716780
Alvar Aalto's Bentwood Seating
Aalto is probably most famous for his organically styled bentwood seating. His laminated plywood chairs are as well engineered as highway bridges, the fluid forms of the frames appearing to effortlessly carry the weight of the seats and backs. Although in principle his chairs were aimed at the mass market, in reality they were too labor intensive for the moderate pricing required for such a market. Because of this, vintage versions of his earliest seating designs are rare and can bring high prices.
Alvar Aalto's architectural commission to design the Paimio Tuberculosis Sanatorium yielded the prototypes for two of his most well received chairs, the model 31 and the Model 41 arm chairs. Aalto worked with master joiner/woodworker Otto Coroner in developing the technique to create the strong laminated wood necessary to create a revolutionary concept – the cantilevered chair.
Alvar Aalto's Model 42 Chair
The Model 41 chair was developed for use at the sanatorium, and one hundred of these chairs were produced for this facility. These chairs were manufactured by the company Huonekalu-ja Rakennustyotehdas AB of bent, laminated birch and plywood. Chairs manufactured for the sanatorium have red stenciled ward numbers under the seat, and can sell for upwards of $20,000. Artek manufactured later versions of this chair with minor variations.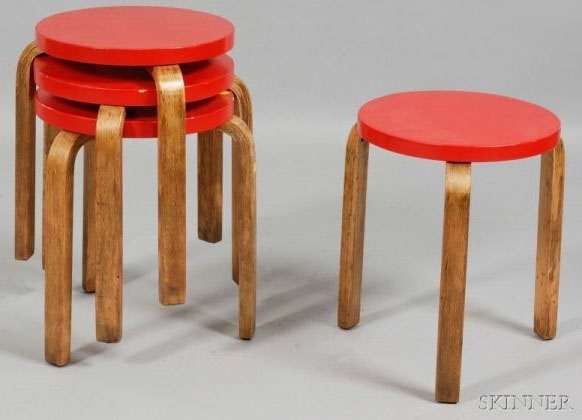 Alvar Aalto stacking stools
p4A item D9716780
Alvar Aalto's Number 60 Stacking Stool
Aalto designed furniture that was practical and functional, and none of his pieces were more so than his number 60 stacking stool. These stools features round laminated sears, and three bentwood laminate l-shaped legs. This stool formed the foundation of his manufacturing company, Artek. It was first manufactures in 1932, and is still in production today.
Reference: Hoban, Sally Miller's Collecting Modern Design Miller's c2001
Reference note by p4A contributing editor Susan Cramer.