ARNE JACOBSEN (1902 – 1971), FRITZ HANSEN, pair of Swan chairs and one ottoman, Denmark, 2000s

p4A ItemID F7964871

ARNE JACOBSEN (1902 – 1971), FRITZ HANSEN, pair of ottomans, Denmark, 2000s

p4A ItemID F7964868

An Egg chair and ottoman by Arne Jacobsen for Fritz Hansen, Denmark, 1960s or 1970s

p4A ItemID F7940660

A set of six Oxford chairs by Arne Jacobsen for Fritz Hansen, aluminum base, leather upholstery, Denmark

p4A ItemID F7940658
Arne Jacobsen (1902-1971)
Jacobsen's iconic chairs defined an era and remain popular with collectors more than half a century after their introduction.
These days, chairs by Arne Jacobsen are some of the most eagerly sought after by collectors of Mid-Century Modern. Jacobsen's iconic chairs include the Drop Chair, the Ant Chair and the Swan Chair, but his Egg Chair is by far the most well-known.
Arne Jacobsen Brief Biography
Born in Copenhagen in 1902, Jacobsen originally trained as a mason, but switched to the study of architecture, graduating from the Royal Danish Academy of Fine Arts in 1927. By the early '30s he had his own firm that specialized in architecture and interior design. Jacobsen was heavily influenced by Le Corbusier, van der Rohe and the other early Modernists.
Arne Jacobsen's SAS Royal Hotel
The practical, functional, yet elegant buildings of the early Modernist architects influenced Jacobsen's designs, inspiring probably his most well-known architectural work, the SAS Royal Hotel in Copenhagen. Completed in 1960, this 260 room hotel was Copenhagen's first skyscraper. Jacobsen designed not only the building, but also textiles and the seating used throughout, including the Egg Chair.
Arne Jacobsen & the Egg Chair
While Jacobsen was committed to the Danish tradition of using natural materials, he also embraced the new technology that enabled him to create the sculptural organic forms of his classic seating. Consisting of a fiberglass shell covered in foam and wrapped in fabric or leather upholstery, the shell sits on a simple 4-prong swiveling aluminum base. The Egg Chair has spawned a host of knock-offs around the globe. Vintage issues in original leather can sell for $7-8,000. Jacobsen's original manufacturer, Fritz Hansen still makes the chair, a new leather version of which costs around $7,500.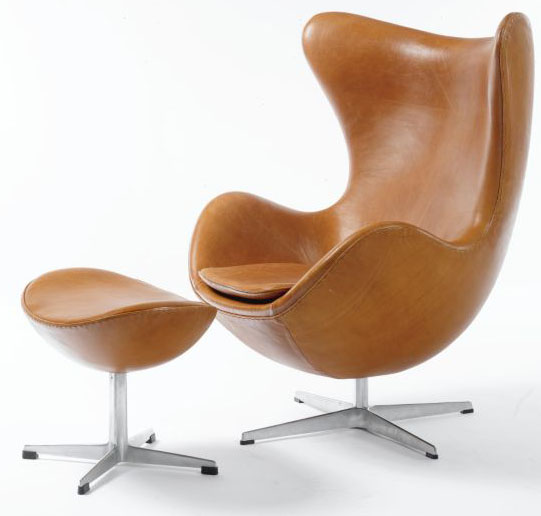 Egg Chair, p4A item D9835583
Arne Jacobsen Drop Chair
Designed in 1958, the drop chair was also used in the SAS Royal. Also upholstered in leather, the shell of chair mimics the form of a raindrop, and sits on four simple, splayed legs that are typical of Jacobsen's clean and unornamented style.
Arne Jacobsen Swan Chair
The Swan Chair, designed in 1958 was also used in the hotel, and is an offshoot of the Egg chair built on a smaller and lighter scale. Like its predecessor, the shell is foam-wrapped fiberglass, but the Swan sits on Jacobsen's signature splayed metal legs.
Arne Jacobsen Ant Chair
The Ant was designed in 1953, and manufactured by Fritz Hansen, who still makes it today. This three or four legged chair was originally made from a single sheet of molded teak plywood.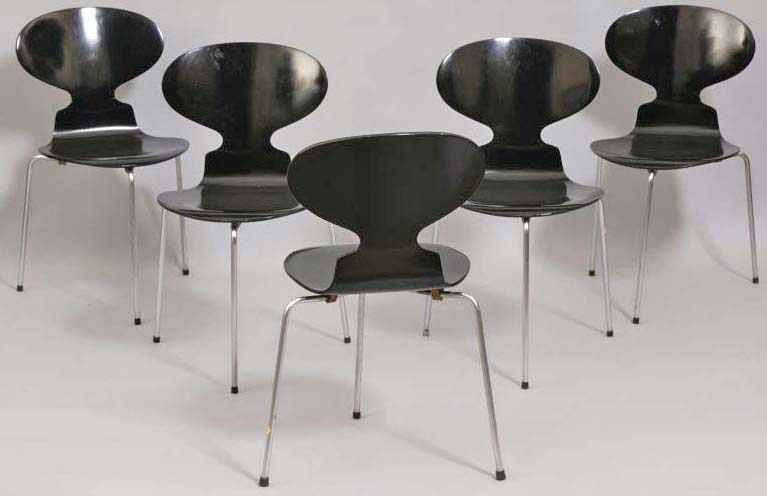 Ant Chairs, p4A item D9830188
Danish Architect Arne Jacobsen's classic modern seating designs are popular with collectors of this genre, and many of them have been in constant manufacture since their introduction more than fifty years ago.
Reference: Hoban, Sally Miller's Collecting Modern Design c2001.
Reference note by p4A contributing editor Susan Cramer.