Gilbert Rohde (1894-1944)
-Bauhaus Inspired Designer Revitalized the Herman Miller Company
-Rohde's successful career included designs for Herman Miller, Heywood-Wakefield, John Widdicomb and more.
-Gilbert Rohde's furniture featured clean lines and spare yet jewel-like hardware. His early work set the ailing Herman Miller Company on the road to success via modern design and is still popular today.
Gilbert Rohde Brief Biography
Born in New York in 1894, Gilbert Rohde was the son of a cabinetmaker working in a shop in the Bronx. Rohde left high school early for a job drawing political cartoons for a Bronx newspaper. By 1923, he was working as an illustrator for department store Abraham & Strauss. A trip to the Bauhaus in Germany and the Paris Exposition (Exposition Internationale des Art Decoratifs et Industrials Modernes) in 1925 that showcased clean, modern, and streamlined architecture, interiors, and industrial design inspired Rohde to try his hand at furniture design.
Gilbert Rohde Furniture Studio
Inspired by the avant-garde ideas brought back from Europe, Rohde opened his own design studio in New York in 1927. His earliest furniture was manufactured for and sold exclusively at Lord & Taylor.
Furniture by Walter Gropius influenced Rohde's concepts, particularly sectional and modular furniture with interchangeable components. Rohde helped popularize modulars in the United States. His early style was late Bauhaus accented by Art Deco details and materials including American maple, exotic hardwoods, chrome, and Bakelite.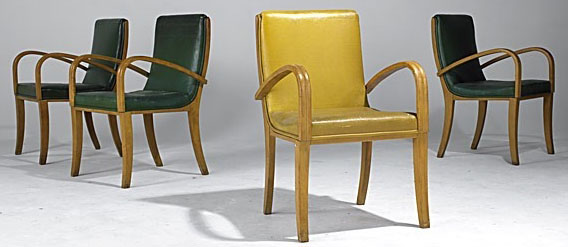 Four armchairs attributed to Gilbert Rohde for Haywood-Wakefield
p4A item D9670235
By 1929, Rohde was producing furniture for Heywood-Wakefield, and created a popular bentwood chair for the Massachusetts furniture manufacturer. In search of wider opportunities, Rohde approached ailing manufacturer Herman Miller, and founded a partnership that changed not only his own fortunes, but the face of the American design industry as well.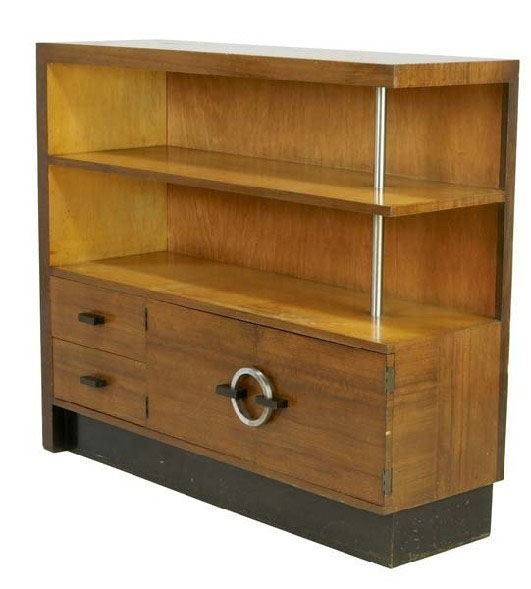 East Indian laurel, a cabinet by Gilbert Rohde for Herman Miller
p4A item D9850274
Gilbert Rohde & Herman Miller
Founded in 1923, the Herman Miller Furniture Company was a manufacturer of reproduction residential Chippendale furniture but by 1930, the company was teetering on the brink of bankruptcy. Gilbert Rohde introduced company owner D. J. DePree to modern furniture, beginning Herman Miller's long and profitable association with modern design, for which it is justly famous today.
Executive Office Group by Gilbert Rohde
Early Rohde pieces for Herman Miller leaned heavily towards casework, or cabinet furniture, but by 1941, Rohde had produced designs for seating, tables, clocks, desks, and lighting. His furniture for small spaces introduced the concept of dual purpose furnishings, which lead to his designs for office or contract furniture. Rohde's Executive Office Group was Herman Miller's entry into the office furniture market, where they have dominated the field ever since, setting the stage for future collaborations with design giants George Nelson and Ray & Charles Eames.
George Rohde's work, especially his casework has a timeless quality that makes it at home in both modern and more traditional interiors. Collectors love the clean lines that highlight the beauty of the materials from which the pieces are made.
Reference: Miller, Judith; Art Deco (Dk Collector's Guides)
DK Collector Books c2005.
Reference note by p4A contributing editor Susan Cramer.