A Hans Wegner (1914-2007), P. P. Mobler, Swivel desk chair, Denmark, 2001

p4A ItemID F7934002

A rosewood cabinet by Hans Wegner, RY Mobler, Denmark, 1950s

p4A ItemID F7933548

A set of six The Chair by Hans Wegner for Johannes Hansen, Denmark, 1960s

p4A ItemID F7933547

A set of four The Chair by Hans Wegner, Johannes Hansen, Denmark, 1960s

p4A ItemID F7933544
Hans Wegner (1914-2007)
Hans Wegner's 60+ year career produced more than 500 chair designs, many of which are still in production today. The most prolific of the modernist chair designers, Hans Wegner believed that a chair should be made well enough to last for fifty years, and his classic designs for seating have lasted much longer than that.
Hans Wegner Brief Biography
Hans Wegner was born in a small town in southern Denmark in 1914. By the age of 14, he began a four year apprenticeship with a local cabinetmaker. He received his education at the Danish Institute of Technology in Copenhagen, then studied at the Copenhagen School of Arts and Crafts where he later taught from 1946-1955.
Wegner worked briefly designing furniture at the architectural office of Arne Jacobsen, but by 1943, had started his own design office where he produced original designs for manufacture by the Fritz Hansen and Johannes Hansen furniture companies in Denmark. In the United States his designs were distributed by Knoll International. Wegner died in 2007 at the age of 92 after a long and successful career that included numerous awards and medals for innovative and high quality furniture.
Hans Wegner's Peacock Chair
Inspired by English Windsor chairs, Wegner's Peacock Chair was designed in 1947 and given its name by friend Finn Juhl because the high rounded back resembled a peacock with its tail fanned. The Peacock Chair had a wide, low seat and teak armrests. In 1953, Wegner reworked the chair's basic form adding an upholstered back and enclosed arms.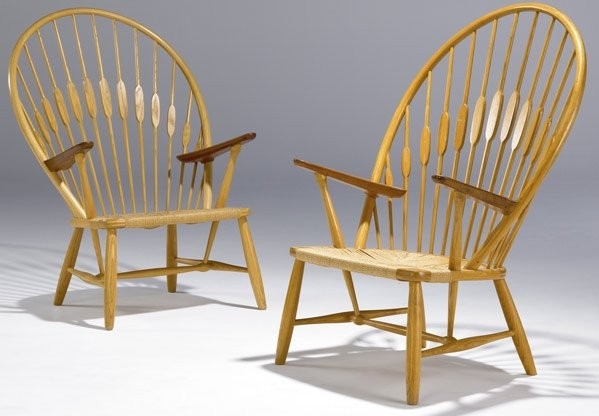 Designed by Hans Wegner, made by Johannes Hansen, a pair of oak Peacock chairs with teak armrests
p4A item D9780881
Hans Wegner's Teak Furniture – the Valet Chair
The teak "Valet" or "Bachelor's Chair" was designed in 1952, and may be one of his most innovative designs, as it is both a comfortable chair, and an efficient clothes hanger and the perfect embodiment of the modernist drive towards functionality. The unusually shaped back supports a human, a jacket or a shirt. The comfortable seat folds up and also serves as a hanger for slacks. A box under the seat can be used for small items such as ties or cuff links.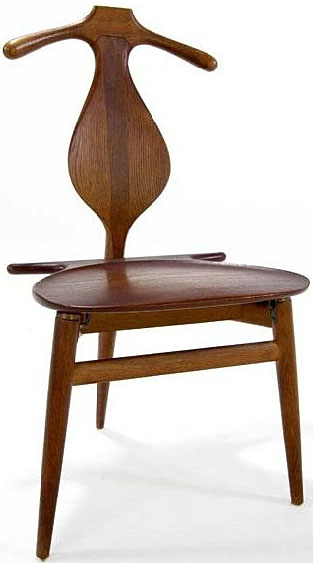 A teak valet chair by Hans Wegner for Johannes Hansen
p4A item D9856095
Hans Wegner's Dining Chairs & Round Chair
Wegner gave his chairs numbers not names, preferring to leave the naming up to the manufacturer. His most famous chair may be his "Round Chair." This chair was used in the first televised U.S. Presidential debate between Richard M. Nixon and John F. Kennedy. Wegner's other popular dining chairs include the Wishbone (CH24) or "Y" chair, the Elbow (CH20) and the Sawbuck (CH29).
According to Wegner's New York Times obituary (NYT February 2007) Wegner, ". . . combined cabinetmaker guild tradition of high craftsmanship, quality and comfort with modernist principles of simplicity and graphic beauty." The result of this marriage of craft and elegance is a line of seating products that are still popular a half century or more after their introduction.
Reference: Pina, Leslie; Fifties Furniture
, Schiffer Books c1996.
Reference note by p4A contributing editor Susan Cramer.