Marcel Breuer (1902-1981)
Examples of architect Marcel Breuer's designs for seating are sought by museums as well as private collectors. Still fresh and relevant after 80 years, Breuer's classic designs find an eager audience willing to pay substantial prices for early models. Designed in 1925, the Wassily Chair is perhaps Breuer's best known work. Originally called B3, the name was changed to honor painter Wassily Kandinsky (1866-1944). The Wasily chair is still in production and is available in a wide range for prices.
Marcel Breuer & Modernism
Born in Hungary 1902, Breuer joined the Weimar Bauhaus in 1920, (Bauhaus-German, Bau = building + haus = house. School of architecture from 1919-33 whose principles of design stressed functionalism), and studied there until 1924. In Post-World War I Europe, widespread devastation requiring massive rebuilding efforts created a feeling of social responsibility in designers and artists who believed that design could help build a better new world through truth, beauty and honesty. Modernists believed that artists should work together, and that a fusion of art, design, and architecture would create a harmonious whole.
Marcel Breuer for Thonet
In 1925, Breuer became the head of the furniture workshop, then left the Bauhaus in 1928 to study architecture in Berlin, where he lived until 1935. During that time, Breuer worked with furniture manufacturer Thonet, whose founder had developed the technology for producing bentwood dining and armchairs. While working with Thonet, Breuer developed a bentwood lounge chair known as Long Chair, fabricated from bent and laminated plywood. In 1935, Breuer moved to London, then in 1937 to the U.S. where he became a member of the faculty at Harvard. It was during his work at the furniture workshop at Bauhaus, that Breuer designed the chair most closely associated with both himself and modernism-the Wassily Chair.
The Wassily Chair
Designed in 1925, the Wassily Chair is perhaps Breuer's best known work. Originally called B3, the name was changed to honor painter Wassily Kandinsky (1866-1944), as the chair was designed specifically for Kandinsky's living quarters at Bauhaus. Breuer originally attempted to fabricate the chair in aluminum, a new material that had found favor with designers because it was strong, yet lightweight and inexpensive, however, due to the difficulty and expense of welding the aluminum, bent tubular chromed steel proved to be a more successful choice.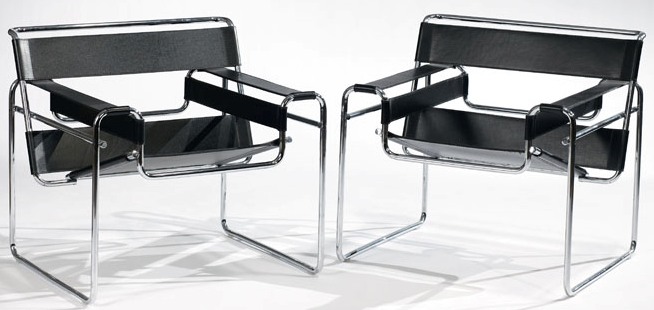 Two Wassily lounge chairs designed by Marcel Breuer and made by Knoll, American, circa 1991
p4A item E8993170
Original Wassily Chairs
The earliest Wassily chairs were fabricated of chrome plated tubular steel and leather, canvas or a fabric called Eisengarn ( iron yarn), and available in black, green, rust, red, and blue. It was originally manufactured by Gebruder Thonet and Standard-Mobel. Original models are very rare, and found mostly in museum collections.
Licensed Reissues of Wassily Chairs
Knoll International was given the license to manufacture Wassily chairs in the United States. Versions of these chairs from the 1950s, 60s and 70s depend on the condition & upholstery. New versions are available from Knoll International and Design Within Reach.
Reference: Miller's Collecting Modern Design by Sally Hoban, Miller's of Octopus Publishing.
-Reference note by p4A contributed editor Susan Cramer.