A Modernist desk by Finn Juhl for France & Son, rosewood and aluminum, Denmark, 1960s

p4A ItemID F7940557

An NV-45 lounge chair by Finn Juhl, Niels Vodder (attr.), Denmark, 1950s

p4A ItemID F7933551

A lounge chair by Finn Juhl, Bovirke, Denmark, 1950s

p4A ItemID F7933549

A lounge chair attributed to Finn Juhl, Denmark, 1960s

p4A ItemID F7933154
Finn Juhl (1912-1989)
Finn Juhl & His Chieftain Chair

Danish architect Finn Juhl brought his own aesthetic to Scandinavian Mid-Century Modern furniture, especially his ethnic inspired sculptural seating still popular today. The Chieftain Chair is Juhl's best known but by no means his only Mid-Century Modern design classic.

Finn Juhl a Brief Biography
Juhl was born in 1912 in Frederiksberg (part of Greater Copenhagen). His authoritarian father was a textile wholesaler representing a number of European manufacturers in Denmark. Juhl's mother died three days after his birth, and in interviews later in life, he always said that the mothers of his many friends took excellent care of him, and that he didn't miss what he never had except that perhaps being motherless made him more independent.
Juhl studied architecture at the Royal Academy in Copenhagen, and landed a job in the office of Danish architect Vilhelm Lauritzen, but by the 1930s his interest had shifted to furniture design. He began experimenting, and designing pieces for his own use. Throughout his life, Juhl was proud of being a self-taught furniture designer, and made it a point to mention this in interviews. By the late 1940s he had opened his own design office, and in the 1950s won gold medals for his work at the Milan Triennial.

African Influenced Seating by Finn Juhl
Finn Juhl worked in the Scandinavian version of Mid-Century Modern, but with his own personal twist. While he shared the love of organic and natural forms with his peers in the fields of design and architecture, he was also strongly influenced by non-European art, particularly African sculpture and artifacts. Juhl incorporated a tribal aesthetic into the sculptural nature of his furniture designs.

Finn Juhl & Cabinet Maker Niels Vodder
Another major influence on his work was his relationship with master cabinetmaker Niels Vodder. Thanks to Vodders consummate skill with wood, Juhl's sometimes complicated designs could be executed, and because of his close relationship with the cabinet maker, Juhl developed a strong understanding of wood and its capabilities.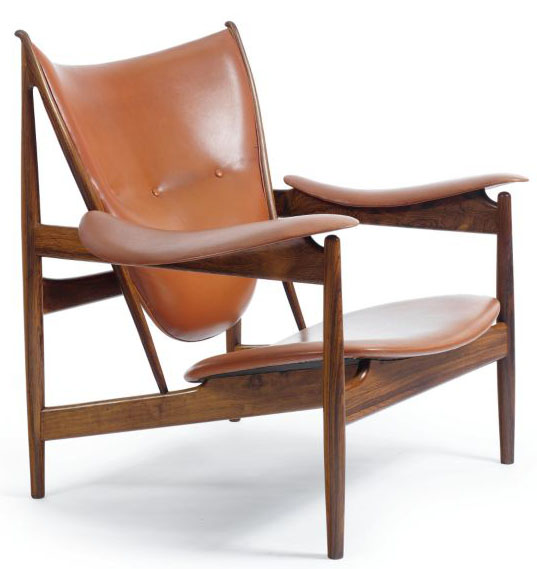 Finn Juhl Chieftain armchair in rosewood and original leather, an early 1949 example
p4A item D9835582

The Chieftain Chair by Finn Juhl
In 1949, Juhl introduced what is now his most collectible chair, The Chieftain Chair, made of rosewood and leather, was constructed with the help of Vodder. The chair is so named because its size and bulk make it resemble a throne and because King Freidrich IX is said to have sat on one at the Cabinet Make's Guild Exhibition in 1949. The chairs configuration also calls to mind ancient African chairs. Early examples of the Chieftain Chair are very rare, as no more than 100 were made, and the majority of the originals were purchased for use in Danish embassies worldwide while some were purchased by museums.
Reference: Hoban, Sally; Miller's Collecting Modern Design, Miller's c2000
-Reference note by p4A Contributing Editor Susan Cramer.