Murano Italy Glass Collectibles 1940-1960
Colorful Examples of Italian Glassblowers Art
Venetian glass makers and their Murano studios and factories achieved worldwide fame for the quality of their artistic glass creations. Italian glass has been famous for quality and innovation since the 14th century, and Murano continues that long standing tradition. Collectors have rediscovered the beauty of color and form of post-WWII pieces from the 1940s-1960s.
Murano Glass from Venice, Italy
The small island of Murano, situated in a lagoon that borders Venice has been the center of the Italian glass making industry for centuries. Although referred to as Venetian, the Italian glass making industry was established centuries ago on this small island to protect the city of Venice from the ever present danger of fire due to manufacturing processes that require extreme heat. While lovers of glass art have appreciated so-called Venetian glass for centuries, the post-WWII years produced some of the most artistic and innovative products in the industry's centuries long history.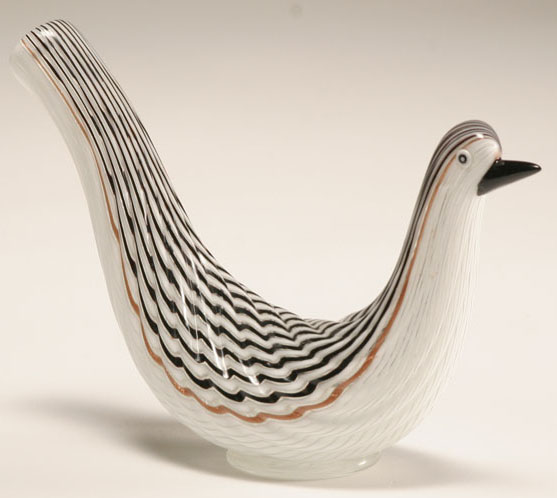 Murano Dino Martens Mezza Filigrana art glass figure depicting a dove, p4A item D9698419
Murano Glass 1940-1960
The Murano glass industry suffered a downturn during the world-wide depression of the 1930s, but during the post-WWII years of 1940s-1960s, Murano was once again the world leader in the creation of art glass confections. Murano is not a company or style, but the name of a geographic area that was home to a variety of glass studios and manufacturers that employed glass designers. In the 40s-60s, these designers included Paolo Venini, Carlo Scarpa, Dino Martens, Gio Ponti, Fulvio Bianconi, and Flavio Poli.
New Techniques and Innovations at Murano
One of the most important of the Murano Glassworks of the post WWII period was Venini & C. Top designers working there developed new techniques that made Venini one of the most successful glass houses. Designer Carlo Scarpa developed a technique called tessuto which used finely striped canes that created an effect resembling woven fabric. Sommerso (submerged) technique was developed during this period as well. In sommerso, the main color is coated with a thin layer of another color, then coated with a thin layer of clear glass.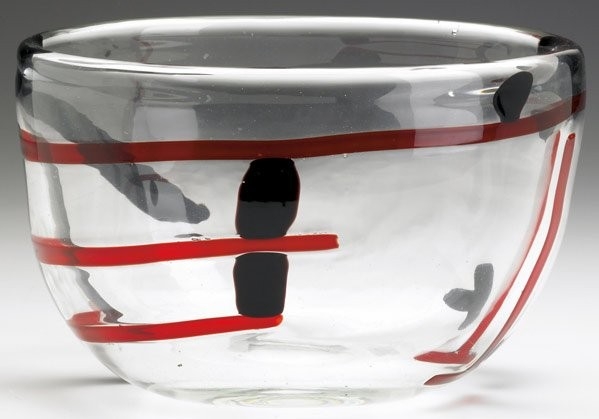 Fulvio Bianconi/Venini, rare Con Macchie art glass vase having abstract decoration in red and black, p4A item D9787831
Murano Glass Forms of the Atomic Age
During this post-war period, Murano glass artists were creating not only new techniques, but new forms as well. Collectible glass pieces from the 1950s and 1960s particularly display the same free-form and organic shapes that were appearing in other areas of home accessories such as furniture, textiles and housewares. Designers abandoned traditional shapes for teardrops and geometrics, creating large, flowing abstract forms that were usually produced in brilliant colors. These are the pieces for which today's collectors will pay anywhere from hundreds to $10,000.
Murano Vases Values
For serious collectors of Murano glass from Italy, the big money goes for larger, free-form and classic atomic age shapes in bold colors and textures with the artist/designer and studio name. Smaller, common, and unattributed yet still attractive pieces can be had for lower sums.
Reference note by p4A contributing editor Susan Cramer.