Tiffany Lamps with Stained Leaded Glass Shades
Tiffany Studios
Charles Tiffany had a thriving luxury goods business which he expected his son to take over, but Louis aspired to a career in art. Although he trained as a painter, Louis Comfort Tiffany was inspired by the glasswork in the Byzantine churches he visited as a youth. He was particularly taken with colored glass, and the effects of daylight upon it. Having studied with a Venetian glass blower, he established a studio, Louis Comfort Tiffany & Associated Artists in 1878. Experiments with new glassmaking techniques led to the development of his unique type of iridescent glass which he called "Favrille."
Tiffany Leaded Glass Lamps
With the advent of electricity, Tiffany's lamps had a uniform light source, and his electric art glass lamps became the most successful of his studio's product lines. In 1899, Tiffany introduced a line of decorative lamps, and by 1906, the studio offered over 125 different types. The lamps were constructed over wooden molds and although patterns were repeated, because the stained glass was done by hand no two lamps were ever the same. Shades for table and desk lamps were typically hemispheres, and those for chandeliers or hanging lamps, hemispheres or triangular.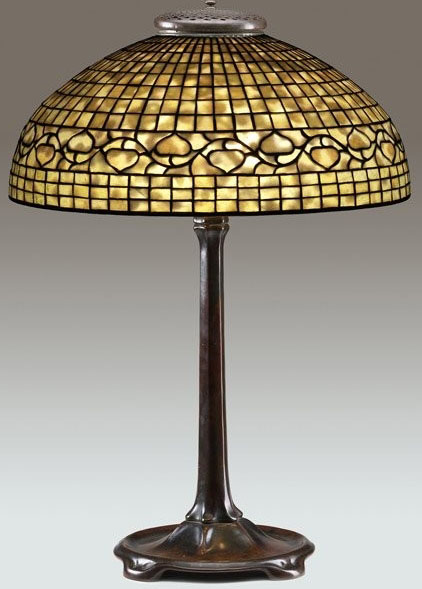 Acorn pattern Tiffany Studios table lamp, p4A item D9748699
Lamps by Tiffany Studios
Tiffany was heavily influenced by nature, and his lamp shades were decorated with complex depictions of flowers, foliage and insects, especially
dragonflies
, a popular motif in the Art Nouveau style of the day. Or, the shades were decorated in simple, geometric designs. The shade were set on lamp bases also made by Tiffany studios; these bronze bases were in graceful and flowing forms, typically executed in bronze, and signed Tiffany Studios.
Tiffany Lamp Values
Tiffany Stained and leaded glass lamps have been popular since their introduction, although they went briefly out of style during the Art Deco years and subsequent Great Depression. Rediscovered in the 1970s, the market softened in the early 1980s, but by the late 80s had regained popularity, and their popularity has not abated in the 21st century. Prices for fine examples are extremely high, with table lamps bringing two and three hundred thousand dollars, and hanging lamps complete with original fittings going even higher. And because almost all his lamps were signed, it is almost impossible to find any bargains.
-Reference note by p4A Contributing Editor Susan Cramer.