Chrome by Chase- The Art Deco Years
The Art Deco style may have originated in Europe, but Americans embraced it for everything from skyscrapers to soap dishes, and nobody did it better than Chase.

First Waterbury, then Chase
Art Deco buildings like the Chrysler Building and Radio City Music Hall in New York, the Union Terminal in Cincinnati, and much of Miami Beach needed lighting and accessories to go with this exciting new style, and nobody did it better than the Chase Company. Augustus Chase and other Waterbury (Connecticut) civic leaders established the Waterbury manufacturing Company in 1876. The company originally specialized in brass, turning out buttons, pins, upholstery trim, saddle and harness parts, and novelties. Augustus was succeeded by his son Henry who ran the company so successfully that by 1900 a needed rolling mill was built. The business continued to grow as the Chase Metal Works became a major supplier to the US government during World War I. Like many companies at the end of a booming wartime economy, Chase desperately needed to retool to peacetime production, and Frederick Chase was the man to do it.

Chase for the Home Featuring High Design & Low Price
Frederick Chase mounted an aggressive marketing campaign introducing Chase products for the home, and by 1936 business was booming. The Chase Brass and Copper Company became one of the largest producers of high quality machine made Art Deco accessories and lighting, offering products such as candlesticks, smoking accessories, barware, serving pieces, and lamps. The products were sold in special gift departments called Chase Shops in jewelry and department stores including Marshall Field's and the Mays Company. Over the years, the company commissioned the best industrial designers to develop new offerings. Design giants Walter von Nessen, Rockwell Kent, Charles Arcularius and Russell Wright created a variety of products for the Chase Company.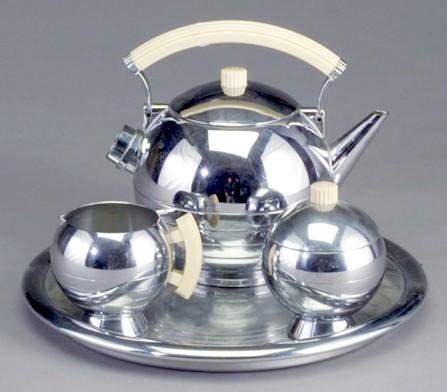 Chase four-piece tea service of polished chrome
p4A item B175333

Emily Post, the Movies, & High Quality Chromium
Although Chase products were inexpensive, they were extremely well made, particularly those in their signature chromium finish. Chromium is a chemical element that takes a high polish and has an extremely high melting point. Home makers loved its low cost elegance- the gleam of silver for that cost little to buy and required no polishing. Unlike its competitors, Chase chromium had a brass or copper base under the chromium plated surface. Using a non-ferrous metal as a base guaranteed that the chrome wouldn't pit, flake, bubble or rust. Home Economist Emily Post endorsed Chase Company products in a 24 page book called How to Give Buffet Suppers that featured a host of Chase Chromium serving and heating products. Chase products also appeared frequently as props on Broadway stages and Hollywood films.

The Chase Trademark
The company acquired trademarks as it acquired divisions, but by 1928 management wanted a mark that was unique, a mark that summarized the company and would instantly call it to the mind of the consumer. Because they made such a diverse range of products, from consumer goods to copper rivets, the mark had to be universal. The Centaur mark was unveiled in the fall of 1928, and advertising Manager Rodney Chase felt it to be a complete success. The centaur holds a bow and appears to be in the middle of a hunt, or chase. The Chase mark appears on almost every piece made after 1928 however, on some pieces the impressed mark is under the rivet that attaches the plastic handles.
-Reference note by p4A contributing editor Susan Cramer.