Alexander Gardner (1821 to 1882)
Alexander Gardner was born in Paisley, Scotland on October 17, 1821. As a young man, he was interested in socialist ideas, especially the concept of cooperatives, the creation of a business venture operated by and to serve the needs of a particular group with a common interest. After the family moved to Glasgow, Gardner apprenticed himself to a jeweler and silversmith at the age of 14. After reading about the New Harmony cooperative community established in Indiana by Welsh socialist Robert Owen and his son Robert Dale Owen, Gardner helped establish the Clydesdale Joint Stock Agricultural and Commercial Company, with the goal of purchasing land in the United States where the members could form another cooperative community.
By 1850, the company had purchased land in Iowa, but Gardner never lived there, instead continuing to work in Scotland to raise more funds. By 1856, after five years as the owner and editor of the Glasgow Sentinel, a struggling paper that he had transformed into a huge success, Gardner opted to move his family – his mother, his wife and their two children – to the United States. However, after discovering that the Iowa community was battling tuberculosis and that many of his friends and family there were sick or dead, he opted to settle in New York.
Gardner's interest in photography was born after a visit to the Crystal Palace Exhibition in London in 1851, where he encountered the photographs of American photographer Mathew Brady. He began to dabble in photography himself and to write about it in the Glasgow Sentinel, and in 1856, he contacted Brady in Washington, D.C. where he was operating a studio. Brady welcomed the opportunity to expand his presence in New York, and Gardner, fast becoming a great talent with the wet plate collodion process that was replacing daguerreotypes, was a perfect choice. His specialty was the large 'Imperial' plates, 17 by 20, and they commanded huge prices in the era with some selling for as much as $750.
By 1858, a relatively short time after beginning his relationship with Brady, Gardner had evidently impressed his employer so much that Brady asked him to move to Washington, D.C., where he would eventually oversee the gallery there until he became involved in war photography. Both men were perfectly positioned to capture the historic moments of the coming years, and the gallery flourished during the early years of the war, gaining a reputation for portraiture and thriving with the patronage of the high-profile, high-ranking military officials who visited the city and the vast numbers of soldiers under their command. Gardner is especially known for his photographs of Lincoln, capturing an image of the sixteenth president on the battlefield at Antietam and taking various portraits during Lincoln's years in Washington. He also took the last known images of Lincoln, four days before his assassination, and documented the aftermath, photographing both the funeral proceedings and the assassination conspirators.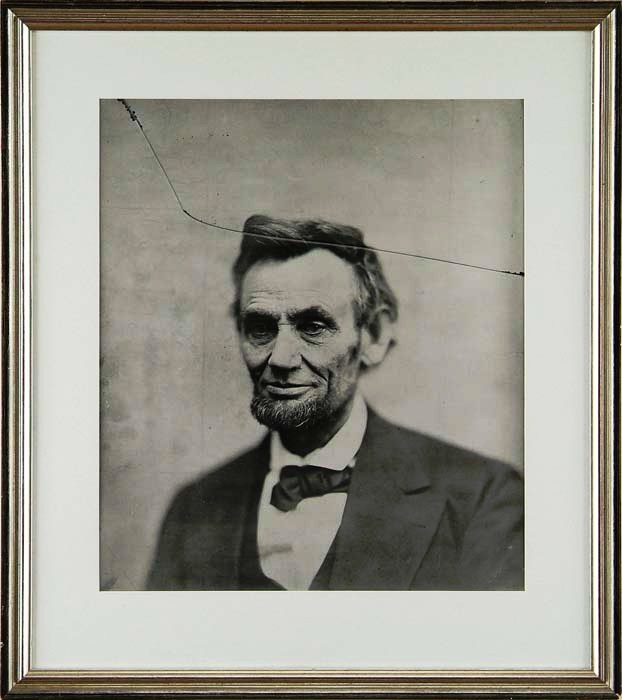 A silver print copy of Gardner's final portrait of Lincoln, taken four days before his death. (p4A item # D9899713)

It seemed only natural that Gardner and Brady begin to contemplate photographing the Civil War, and after Brady witnessed up close the Battle of Bull Run in 1861 (he was nearly captured in what became an embarrassing defeat for the Union), he began mining Washington connections like Allan Pinkerton; he soon managed to have Gardner appointed as chief photographer for the U.S. Topographical Engineers, which was a short-term stepping stone to the position as Army of the Potomac commander Gen. George McClellan's staff photographer. In 1862, McClellan was relieved of his command, and it was around this time that Gardner ended his professional relationship with Brady, possibly because Brady refused to credit his photographers individually or publicly.
With photography still in the glass plate stage, Brady photographers like Gardner moved around in traveling darkrooms that were fully equipped to develop images. When one considers the conditions, Gardner's Civil War photographs become all the more amazing. Later in the war, he traveled with Gen. Ambrose Burnside and Gen. Joseph Hooker, photographing events at Fredericksburg and Petersburg as well as the seminal battles at Antietam and Gettysburg, and in 1863, Gardner and his brother opened their own studio.
Almost a century later, Gardner's photographs again created a stir when research by Frederic Ray indicated that several of Gardner's Civil War images of two Confederate snipers were indeed just one sniper whose body was moved for the purposes of achieving a more dramatic position. Gardner and his assistants moved the body approximately 40 yards to get the photograph known as Home of a Rebel Sharpshooter. Evidence indicates that posing and arranging photographs was probably commonplace in the early days of the craft, and while modern scholars may be disappointed, viewers in the period would likely not have been bothered by this knowledge.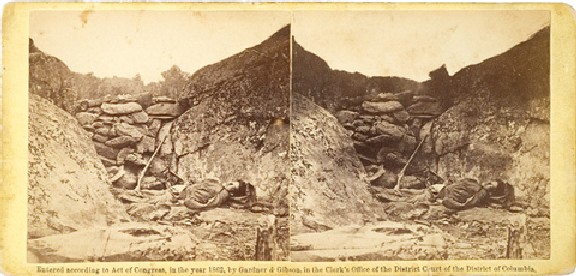 A stereoview image of Gardner's Home of a Rebel Sharpshooter. (p4A item # D9934454)

By the end of the war, Gardner was undeniably one of the finest and best-known photographers in America, and in 1866, he collected some of his most dramatic battlefield images into a two-volume publication,
Gardner's Photographic Sketchbook of the War
, which, although immensely popular today, was a financial failure at the time. (As an interesting aside, some of his work during these years involved photographing criminals for the Washington police.) It was during this time that he also took one of his signature images – the Old Arsenal hanging of the Lincoln assassination conspirators in July of 1865.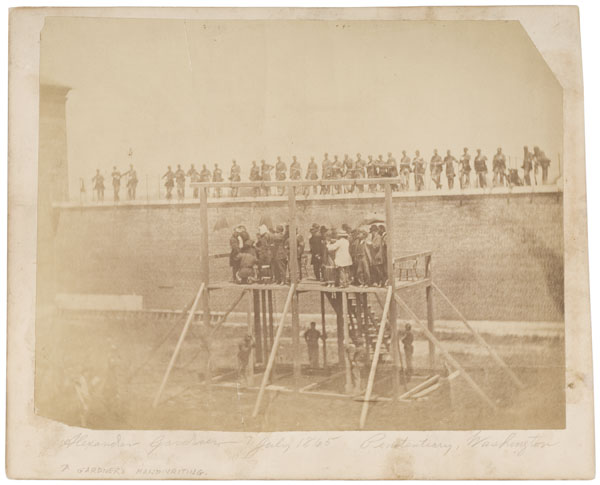 Gardner's albumen image of the hanging of Lincoln conspirators on July 7, 1865. (p4A item # D9889980)

In 1867, Gardner received another government appointment, one that would once again put him on the frontlines of American history, as the official photographer for the Union Pacific Railroad. In addition to his many images of the railroad progress, he also took the opportunity to photograph American Indians, something he would continue upon his return to Washington, where he would photograph Indian visitors with the various delegations that came to Washington. He also published
Scenes in the Indian Country
.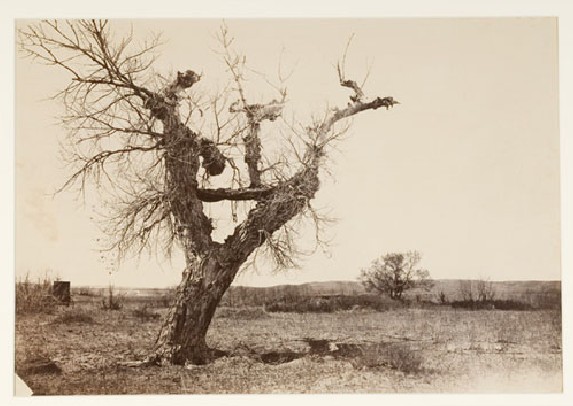 A Gardner's photograph of an Indian burial site from Scenes in the Indian Country. (p4A item # D9927541)

By the early 1870s, Gardner retired from photography, choosing to return to the efforts of his earlier years on behalf of the poor and working class, taking up various philanthropic efforts in Washington. In the late fall of 1882, he became ill, and after an abrupt deterioration, he died at the age of 61 on December 10, 1882.
Gardner's images remain very popular among collectors today, not only because of their quality and technical skill, but because of the historic moments they captured. Prices for his work can range from hundreds of dollars to tens of thousands (a copy of his Civil War volumes brought in excess of $86,000 p4A item # D9890316), and the value depends greatly on subject matter and condition.
Hollie Davis, p4A Senior Editor, August 12, 2009