D.F. (David Frances) Barry, 1854 to 1934
Although one of the most prolific and successful photographers of the 19th century, little is known of D.F. Barry's life, at least the early years. We do know that he was born in upstate New York, near Rochester, on March 6, 1954, and when he was seven, his family moved west to Wisconsin. Around the age of sixteen, he was hired for a short time to assist O.S. Goff, an itinerant photographer, and somehow, the relationship was rekindled years later in 1878 as Goff again hired Barry, this time as an apprentice for his Dakota Territory photography studio in Bismarck.
Over the next few years, Barry devoted himself to his craft, and his skills can only be reflected in his progress in Goff's business from apprentice to business partner. By the mid-1870s, he was ready to strike out, and he began traveling west with a portable studio, one of a number of photographers who perhaps had a sense of the dramatic erosion Native American culture was experiencing and who sought to capture people of the various tribes on film. Between the mid-1870s and 1883, Barry visited a number of forts throughout the Dakotas and Montana, including Forts Buford, Yates and Assinniboine.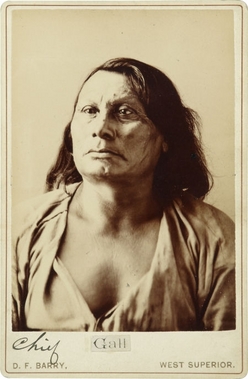 D.F. Barry cabinet card of Chief Gall, whose image later became a sketched logo of sorts for Barry and was included on the backs of his images. (p4A item # D9740560)

He photographed Native American men and women, frontier scouts, soldiers, trappers and other pioneers, truly recording the panorama of folks who populated the American West at the time, as well as the forts and battlefields of the Plains Wars. (Barry developed a very close relationship with the Sioux, who nicknamed him 'Little Shadow Catcher.') The catalogue of his subjects is a veritable list of who's who on the high plains at the end of the 19th century with many of them having been involved in the Battle of Little Bighorn: Sitting Bull, George Armstrong Custer, Rain in the Face, Chief Gall, Red Cloud, and many others. He even took photographs of the aftermath of Little Bighorn and was, years later, the only photographer invited back to photograph the reunion on the battlefield. In later years, he also photographed the taming of the Wild West by recording images of Buffalo Bill Cody, Annie Oakley and others who traveled as part of Buffalo Bill's Wild West Show.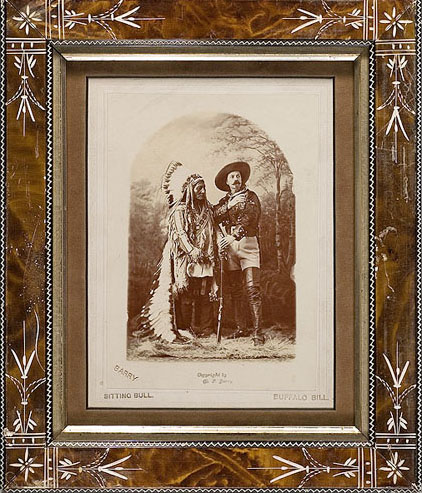 A D.F. Barry silver gelatin photograph of Buffalo Bill and Sitting Bull. (p4A item # D9877563)

By 1890, Barry moved east again, opening a studio in Superior, Wisconsin, where he continued to take photographs while marketing his photographs from his days in the Dakotas. Aside from a brief period of time in New York, Barry remained in Superior for the remainder of his life, dying there on March 6, 1934. The Denver Public Library owns Barry's original negatives and his collection of prints.
Hollie Davis, p4A Senior Editor, January 7, 2010