Hummel marks
Hummel Figurines
History
Berta Hummel (May 21, 1909 to November 6, 1946) was born Massing, Bavaria, and the young girl exhibited artistic talents early, drawing little sketches with images of her friends or things she observed in nature. Her family encouraged her abilities, and by 1927, she enrolled in Munich's Academy of Fine and Applied Arts. While still a student, Berta became friendly with two Franciscan nuns who were members of an order with a strong background in teaching and the arts. A religious young woman, Berta opted to enter the Convent of Siessen after she graduated in 1931. Upon taking her vows in 1934, she assumed the name Maria Innocentia.
As a Sister, Maria Innocentia continued to sketch and draw while teaching art to children (and often creating portraits of them for their parents), with the encouragement of the convent, and eventually, publishing companies were approached about the possibility of reproducing some of her work to benefit the convent and its works. Sister Hummel's postcards, initially used for religious holidays, were extremely popular, and as fate would have it, they came to the attention of Franz Goebel, member of the Goebel Company family. The Goebel business, founded in 1871, had moved into the manufacture of porcelain and was developing a line of porcelain figures. Franz was convinced that Sister Hummel's images would be the perfect basis for such a project, and after negotiations with the convent, it was decided that the Goebel Company had permission to create figurines, but the convent retained final approval of the designs.
Goebel debuted the line of M.I. Hummel figurines at the Leipzig Trade Fair in 1935, and they gained immediate popularity, leading to the creation of forty-six figurines in the first year. Another fifteen designs were introduced in 1936, and import deals with American department stores like Marshall Field's spread the appeal of Hummel figurines around the world. World War II interrupted production and the lives of the Sisters of Siessen, as the Nazi regime consistently persecuted and intimidated religious groups.
Sister Maria Innocentia was lucky to weather the war unharmed, considering that her artwork had drawn the ire of Hitler himself. Hitler, who always considered himself a thwarted artist, raged against Sister Hummel's gentle depiction of apple-cheeked youth, a version of German childhood not in line with Hitler's vision of steely defenders of the Fatherland. Sister Maria Innocentia's 1937 sketch, titled The Volunteers, of two small boys, in dress arguably resembling the uniforms of some Nazi groups, marching off with drum and rifle, seemed to deride the very nature of Hitler, the Nazis and the S.S., and it did not escape the notice of Der Fuehrer, who claimed Sister Hummel's sketches portrayed German youths as 'brainless sissies.' (For more information on The Volunteers and Hitler's reaction, see http://www.patrickkillough.com/ethics/hummel.html.)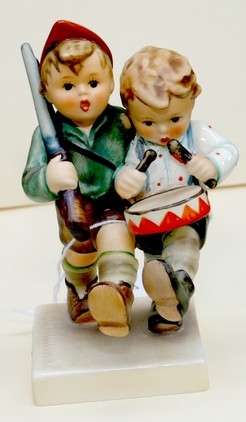 One of the Hummel "Volunteers" figurines based on Sister Hummel's sketch and produced after World War II. (p4A item # D9927497)

After the war ended, M.I. Hummel figurines once again rolled down the production line, and this time, they found a new audience with occupied forces, who took them home as souvenirs. Sadly, just as her figurines were gaining appreciation worldwide, Sister Maria Innocentia died of tuberculosis at the age of 37 in 1946, but even today, the Siessen convent continues to be supported by royalties from the production of Hummel figurines.
Today, W. Goebel Porzellanfabrik has a Rodental factory (frequently visited by collectors) where Hummels are still in production, and even in this modern setting, Hummels are labor-intensive, with the average figure requiring fifteen molds, and some requiring as many as thirty. All the pieces are fired, assembled and still decorated by hand, maintaining the original standards of the agreement with the convent.
Collector's Notes
Every Hummel figurine in circulation, and there are thousands, has a name and is marked on the bottom with incised, stamped or printed trademarks and mold marks. The bases are all impressed with the M.I. Hummel signature mark, and reading the various marks is an intricate process. Collectors have developed a shorthand reference system, such as TMK (for trademark)-1, for the first trademark – a crown. TMK-2, 3, 4 and so on refer to the succeeding marks, all of which included a bee (Hummel means bee in German) until the change in 1979 to TMK-6. After several more trademark incarnations, the bee was added back in 2000. Fortunately, further details to deciphering the various trade and mold marks are available in any of the references recommended below, and it is important, especially for new collectors, to familiarize oneself with them, as the popularity of Hummels led to many imitations from other companies.
The Market
The market for Hummels depends greatly on age and condition. As is the case with most collectibles, the older examples are more popular and thus more valuable. Hummels are everywhere! Older examples are in antique shops, at auctions of all sizes and in a variety of venues on the Internet, while new Hummels are available in jewelry and gift shops. And, as is the case with collectibles available in great numbers, condition is of the utmost importance. Collectors will not often settle for chipped, damaged figurines or figurines with crackling or crazing in the glaze, and as a result, they are valued accordingly.
-Reference note by p4A contributing editor Bob Goldberg, with additional research by Hollie Davis, p4A senior editor, June 26, 2009.
Further Recommended Reading
Luckey's Hummel Figurines and Plates: Identification and Price Guide
No. 1 Price Guide to M.I.Hummel Figurines, Plates, Miniatures, & More
Berta Hummel Catalogue Raisonne 1927-1931: Student Days in Munich/Studienzeit in Munchen
Hummel: The Original Illustrations of Sister Maria Innocentia Hummel