A Rum Rill orange mottled pottery vase, double handles on bulbous vase

p4A ItemID B190675

A Red Wing Rumrill No 570 vase, Athenian Nudes, ivory/seafoam

p4A ItemID D9934499

A Red Wing Rumrill No 572 vase, Athenian Nudes holding a no 573 deep bowl, ivory

p4A ItemID D9934498

A Rumrill green mottled pottery covered ovoid urn, Red Wing, Minnesota, 1930's

p4A ItemID D9727270
RumRill Pottery
While not as famous as the Roseville, McCoy, or Hill potteries, perhaps due to its shorter lifespan, RumRill Pottery still played an interesting role in the rich history of Ohio potteries that sprung up during the late 19th and early 20th centuries and has a story filled with twists and turns.
In 1930, George Rumrill, a Texan with a flair for sales, started a company in Arkansas to sell various art pottery products, but soon sought to produce a line of pottery under his own name. He contracted out his designs with established companies such as Red Wing Pottery in Minnesota to manufacture his pottery. Red Wing manufactured RumRill pottery for several years, but by 1938, they decided they would continue making the pottery, but it would no longer bear the RumRill mark. As a result, the RumRill trademark was transferred back to George Rumrill and the RumRill Pottery Company.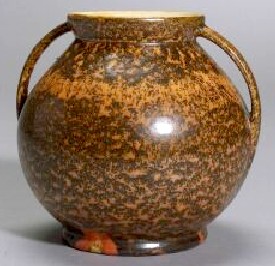 A piece of RumRill pottery from the days of the Red Wing partnership. (p4A item # B190675)

George began searching for another manufacturer, this time contracting with the Shawnee Pottery Company in Zanesville, Ohio, but it was fated to be another short-term relationship. The RumRill-Shawnee Pottery partnership lasted only a year, due to shoddy production values that resulted in problems like leaky vases, things not even George Rumrill could sell.
Still, the connection with Shawnee Pottery had George in a pottery-rich area, and before long, he'd struck up another partnership with the Florence Pottery in Mt. Gilead, Ohio, a small pottery known for quality that seemed to fit with Rumrill's vision for his product. The smooth-talking Rumrill sold the vision to the Florence Pottery as well, convincing the operation to make expensive upgrades like the addition of extra kilns and to hire more employees to produce his new lines, which included a very desirable nude design.
Lawton Gonder, Florence Pottery's general manager, was placed in charge of the RumRill accounts and production of the line, but Gonder soon found he had his hands full dealing with George Rumrill, who, in addition to the problems presented with any long-distance absentee owner, also seemed to feel he could launch and discontinue forms or change and rename sizes and colors on a whim. The ongoing confusion resulted in the expected miscommunications, meaning improperly filed orders, inappropriate substitutions, and increased damage, which in turn guaranteed unhappy retail customers. Nevertheless, Rumrill pushed on, continuing to have unrealistic expectations for both Florence Pottery and the RumRill line, despite poor management and an unreliable workforce.
After only a short time, however, this RumRill partnership would begin to flounder as well. After a fire destroyed the Florence Pottery buildings in October of 1941, the operators found they did not have the necessary funds to rebuild, but RumRill lived in for a time, as the molds were stored in a separate facility and unharmed. Gonder opened Gonder Ceramic Arts in Zanesville and continued to manufacture RumRill for a time with the molds, but the death of George Rumrill in 1943 was also the death of the RumRill line.
Information from Antique Week, 'The Short History of RumRill,' Susan Mellis, March 15, 2010, and from RumRill Pottery, the Ohio Years – 1938-1942, Francesca Fisher, Collector Books, 2008. Additional research by Lois Thomas, p4A Editor, April 29, 2010.