Viktor Schreckengost (1906-2008)
Creator of Groundbreaking Designs for Everything from Bikes to Bowls.
Artist and industrial design giant Viktor Schreckengot's contributions to American product design was on par with the likes of Raymond Lowey and Walter Teague. Schrekengost was a major force on the American Industrial design scene since the early 1930s.
Schrekengost Attended Cleveland School of Art
Born into a family of Ohio potters, Schrekengost entered the Cleveland School of art in 1924. When he wasn't working on his art, he was playing saxophone or clarinet with any band that would let him sit in. His love of Jazz impacted his artistic vision influencing perhaps his most famous work as a ceramicist, the Jazz Bowl. While attending art school, Schrekengost visited a traveling ceramics exhibit at the Cleveland Museum of Art in 1929. The exhibit featured a collection of pottery by Michael Powolny which Schrekengost considered the freshest and most innovative design produced in the U.S. at that time.
Pottery at the Kunstgewerbeschule in Vienna
Impressed with Powolny's work, Schreckengost applied for, and won a scholarship to study with him at the Kunstgewerbeschule (Arts & Crafts School of the Imperial Austrian Museum of Art & Industry, founded in 1867) in Vienna. Schreckengost was enthralled by the gaiety and bustling nightlife he found in Vienna's numerous cafes and cabarets and it informed his work. Upon completion of his studies in Vienna, he headed home to Cleveland to make his own mark in industrial design.
Schrekengost's Work for Cowan Pottery
Viktor returned to the U.S. full of excitement and new ideas which he was able to translate into product for the Cowan Pottery Studio. While he had been enjoying the nightlife in Vienna, Cowan had been fighting for its life. Reginald "Gus" Cowan opened his acclaimed pottery in 1921, and after some years of success, the firm went into receivership in '30. For the first ten years, Cowan had been in the forefront of American ceramic design, and his early success was due in part to his willingness to embrace the then newly popular modernistic style, a style Schreckengost grew to love in Vienna.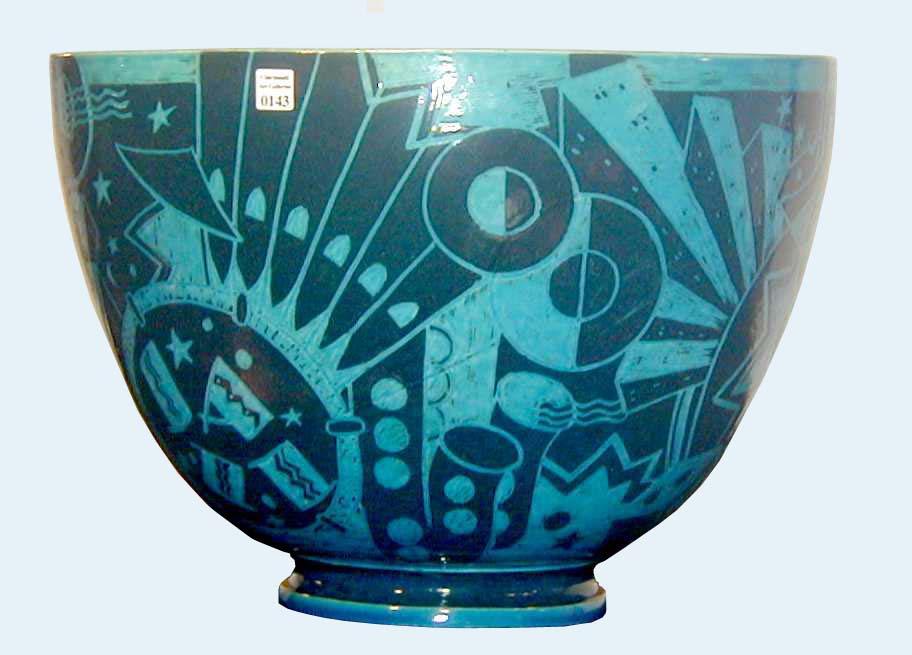 Viktor Schreckengost Cowan Pottery Jazz bowl
p4A item A024961
The Jazz Bowl by Viktor Schrekengost
Schrekengost joined Cowan to help bring the pottery back to life. The story goes that during his first week, Cowan handed him a letter from a gallery in New York. They had a client-a lady in Albany who wanted a large punch bowl in a "New Yorkish" style. Schreckengost thought back to an evening he had spent watching Cab Calloway perform at the Cotton Club. He remembered the rhythm, the excitement, and "the funny blue light over everything." He used these inspirations to produce a glazed bowl in Egyptian blue and black that came to be known as The Jazz Bowl. Etched on the bowl are the iconic images and designs that have come to represent the Art Deco period. The lady in Albany liked the bowl so much she ordered two more–one for her house in Hyde Park, and one for a house she was soon to occupy. She was, of course, Eleanor Roosevelt, wife of then New York Governor Franklin D. Roosevelt and felt certain that they would soon be moving to Pennsylvania Avenue.
The Poor Man's Jazz Bowl
Only fifty of the Jazz bowls were made, and they sold for $50, which was considered pricey in those days, but based upon the enthusiastic reception of the design, Schreckengost produced another version which he called the "Poor man's Bowl" a production piece on which the designs were painted, not etched.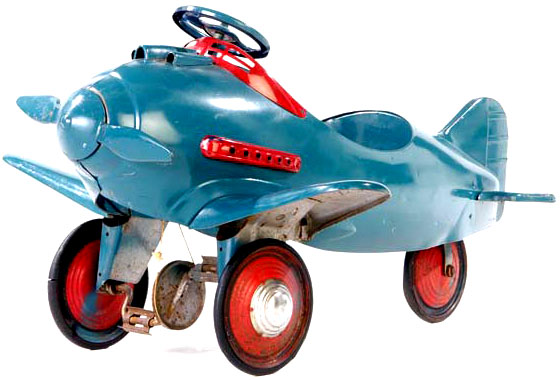 Viktor Schreckengost pedal plane
p4A item D9880199
Schrekengost Bicycles & Pedal Cars for Murray
Schrekengost believed that mass produced items could be of high quality if they were well designed and well made. During his long career, he created designs for bicycles, lawn chairs, printing presses, truck cabs and lawn mowers, but he is most well-known today for the pedal cars he designed for the Murray Ohio Manufacturing Company. These included a Fire Chief Car, an ice cream truck, a Speedway Pace Car and an airplane. They featured realistic design scaled for children, and were affordable to both produce and purchase, and they are still delighting children of all ages.
Reference note by p4A contributing editor Susan Cramer.