Clarice Cliff (1899-1972)
Colorful & Quirky Ceramics
The Newport Pottery Bizarre Girls created bold Art Deco ware. Clarice Cliff's hugely popular Art Deco era pottery features simple, streamlined forms decorated in brilliant colors and eye-catching patterns.
Clarice Cliff, one of eight children in a pottery making family grew up in the heart of Staffordshire pottery country in England. By the age of 17 she was working as a decorator at Wilkinson's Royal Pottery where she remained until 1963. In 1927, the son of the factory owner (Colley Shorter whom she married in 1940) arranged for her to train at London's Royal College of Art. Upon her return to Wilkinson's, Cliff set up her own decorating studio, Newport Pottery, at an adjacent factory also owned by Wilkinson's where, in the years between 1927 and 1940, Cliff and her staff produced enormously popular table and dinnerware.
Clarice Cliff's Bizarre Girls
In 1928, Cliff developed a line that would come to be known as Bizarreware, created and executed by her band of woman decorators who were known as the Bizarre Girls. The Newport Studio was staffed mostly by young women; these artistic and forward thinking Flappers had a taste for modernity and the new freedoms of the Jazz age. Bizarre girls were encouraged to develop their own designs, and were sent out to present them in live demonstrations in venerable London department stores like Harrods.
Bizarreware by Clarice Cliff
The hundreds of patterns developed for Bizarreware were hand painted on the Art Deco streamlined bodies of vases, teapots, bowls, sugar shakers, coffee and teapots and sets of dishes. The clean, geometric shapes were decorated in bold designs in brilliant colors in a palette of orange, yellow, greens and black, and applied over a honey glaze on Wilkinson's basic low-priced earthenware. Cliff's patterns had simple yet evocative names such as Sunrise, Tennis, May Avenue, Pine Grove, Sunburst, Coral Firs, and Cottage. Today, her most collectible patterns may be May Avenue, Applique, Inspiration, Sunray, Crocus, Oranges and Lemons, and Sliced Circle, a graphic design consisting of concentric circles and half-circles and radiating and parallel bands of color.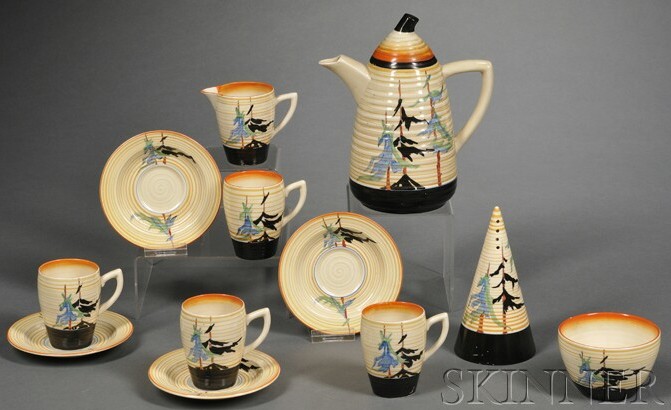 Clarice Cliff Bizarre Ware Pine Groves pattern tea ware items
p4A item D9660838
Collecting Clarice Cliff Pottery
Cliff's Newport Studio produced pottery in more than 500 shapes and 2,000 patterns in the years between 1927 and 1940, but because her products were sold primarily in Great Britain and the Commonwealth countries, they harder to find in the U.S. Demand for her work has fluctuated with changing tastes. Ignored in the 1950s Atomic Age, her work resurfaced in the 70s and has been gaining fans and popularity ever since.
Clarice Cliff Pottery Values
As a general rule of thumb, accessory pieces are more valuable than common pieces. A set of dishes may have eight dinner plates, but only two serving bowls, so the bowls will be worth more than the plates. Because they were more easily damaged, larger pieces tend to be worth more than smaller ones. An 18″ charger in the May Avenue Pattern brought $60,000 at a Christie's auction. Also, popular patterns in the harder to find blue and purple color variations are more valuable than the more common orange and yellow pieces. As with all pottery collectibles, condition has a considerable effect on value.
Reference:
Miller Judith DK Collector Guide Art Deco Dorling Kindersley Ltd. c2005
Hill, Mark & Miller, Judith Buy Keep or Sell Reader's Digest Books c 2006
-Reference note by p4A contributing editor Susan Cramer.