Robert Atkinson Fox (1860-1935)
Born Robert Atkinson Fox on December 11, 1860 in Toronto, Canada, Fox studied in Canada and Europe prior to arriving in America. He eventually went on to become one of the early 20th century's most popular, most diverse, and most reproduced artists of his time with his work appearing as art prints, calendars, advertising pieces, ink blotters, candy and handkerchief boxes, jewelry boxes, magazine covers, children's books, newspaper inserts, postcards, thermometers, and a myriad of other forms.
Once considered the step-child of Maxfield Parrish collectors, Fox collecting has blossomed into one of the most interesting and challenging forms of any early 20th century collectible. It's true that many collectors gravitated to Fox collecting after the price level of Maxfield Parrish collectibles began to increase beyond the levels of many collectors. And it's also true that R. Atkinsion Fox was at times called a "Parrish imitator" because of the similarities of many of his most popular works. Yet many other artists of the time also attempted to capitalize upon the idyllic and romantic style popularized by Maxfield Parrish in their attempt to give the public what they wanted. However, few other artists of his time went on to provide the volume of work and diversity of subject matter as R. Atkinson Fox.
During his lifetime Fox produced more than 1,000 works of art. Rather than concentrating upon one or two specialty areas as did so many artists of his time, Fox was a generalist. He could paint basically any assignment given to him by a publisher, usually painting from a photograph or from memory. His subjects included enchanted gardens, landscapes, countrysides, cottages, animals and pets (Fox was generally regarded as a leading painter of cows); lovely women, Indians and Indian maidens, the wild west, historical and contemporary themes, hunting and fishing scenes, adventure, ships, and much more. It is this diverse subject matter that makes Fox prints so appealing to so many collectors. Some collectors collect anything Fox-related, others collect only specific categories.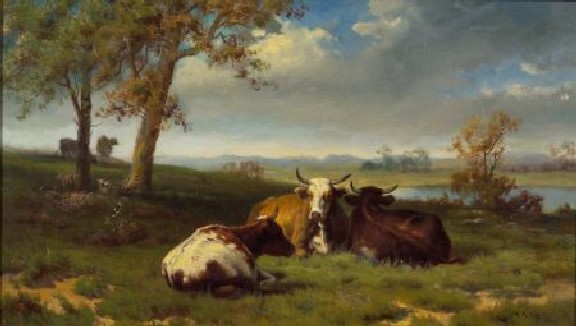 A typical R. Atkinson Fox pastoral painting of cattle. (p4A item # D9968479)

Collecting most Fox prints is fairly easy because he signed many of his works R. Atkinson Fox or R.A. Fox. However, a considerable number of Fox prints are either untitled, unsigned, or signed with someone else's name. These typically fall within four categories:
(a) Pseudonyms Occasionally Fox produced works which he felt weren't up to his personal standards. More often, he was directed to sign his work with a "pseudonym" by a publisher who wanted to present the image to potential clients that their company carried the works of a larger stable of artists than it actually did (at times Fox may have been the only artist in their employ). In all, Fox used more than twenty-five different pseudonyms, sometimes with a variation of his own name (R. Atkins); more often with a totally different name (John Colvin, Arthur DeForest, Dupre, Elmer Lewis, and Chas. Wainright just to name a few). Usually a Fox pseudonym is just as collectible as a Fox-signed print.
(b) Although Fox probably had a mental title for every work he created, apparently he failed to keep a master written list. And even if he titled a picture, that title was often changed by either the publisher who originally commissioned the work, or a subsequent user authorized by the publisher to re-use the print. Some prints were cropped differently, and other prints were used on multiple forms (art prints, calendars, advertising pieces, etc). Unless Fox collectors are 100% certain of the print's title, it will be called an "Untitled" print. Signed-untitled Fox prints are as collectible as signed-titled Fox prints.
(c) Fox collecting can be so confusing at times that Fox collectors have established a category called "Fox Maybes". Unless a picture thought to be a Fox can be confirmed with a 100% degree of certainty, it falls within the Fox Maybe category. As a general rule, Fox Maybes' are not as valuable to Fox collectors as certified Fox prints.
(d) Two of Fox's nephews, G.B Fox (also known as Garnet Bancroft Fox) and W. Gordon Fox, were also painters in a manner very similar to R. Atkinson Fox. And to complicate things even further, they too used pseudonyms.
Fox married Anna Gaffney in 1903. They lived in New Jersey until about 1924, when he moved his family to Chicago and continued his work until his death in 1935 at the 74.
p4A.com acknowledges the scholarship of Michael A. Ivankovich in developing this information.