Newell Convers Wyeth (1882 to 1945)
N.C. Wyeth was born Newell Convers Wyeth on October 22, 1882 in Needham, Massachusetts, the oldest of four boys, who spent their young lives outdoors doing farm chores, hunting, fishing, or exploring the countryside. N.C. displayed an early talent for art, encouraged by his mother, and by twelve, he was producing quality watercolors. After drafting courses at the Mechanics Arts School, he went on to study illustration art at the Massachusetts Normal Arts School and the Eric Pape School of Art, taught by George Loftus Noyes and Charles W. Reed.
In 1902, N.C. was invited to attended Howard Pyle's School of Art in Wilmington, Delaware and Chadds Ford, Pennsylvania, where he was able to study under the man known as the father of American illustration, and after just a few months with Pyle, Wyeth received his first commission as an illustrator, a bucking horse for The Saturday Evening Post's February 21, 1903 edition. In 1904, the Post again commissioned him to illustrate a Western story, and at Pyle's insistence, Wyeth traveled west to gain firsthand knowledge of the world he was to paint. After visits to the Navajo and stints as a cowboy and a mail carrier, he returned to the East, only to travel west again in 1906 for another study trip.
On April 16, 1906, N.C. Wyeth married Carolyn Bockius of Wilmington, Delaware, and they settled on 18 acres in Chadds Ford, Pennsylvania, just across the Delaware-Pennsylvania line. Commissions flew in from all the prominent publications of the day, and Wyeth found little time for his own art. Although the illustration work offered a good living, the growth of Wyeth's family kept pace, and he found it hard to leave commissioned work behind.
Henriette (1907), Carolyn (1909), Nathaniel (1911), Ann (1915), and Andrew (1917) proved to be a remarkable group of children, with Andrew Wyeth (father of James Browning "Jamie" Wyeth) becoming one of the greatest American artists of the 20th century, while Henriette (who married one of N.C.'s proteges, Peter Hurd) and Carolyn also made a living as artists. Ann, who also married one of her father's students, John W. McCoy, was an artist and composer, while Nathaniel (who married Howard Pyle's niece, Caroline), the only Wyeth to attend college, worked as an engineer for DuPont where he helped develop the plastic pop bottle.
In the 1910s, Wyeth's illustration commissions began to shift, and he moved away from Western art for periodicals to illustration art for children's books. Perhaps his most famous efforts were his first – the 1911 edition of Robert Louis Stevenson's Treasure Island, and editions of such classics as Kidnapped, Robin Hood and Rip Van Winkle followed over the next decade.
A first edition of an N.C. Wyeth-illustrated edition of Robin Hood. (P4a item # D9821092)

These successes brought in large sums of money, allowing Wyeth more time to focus on his own work. Although he disliked illustration work, in large part because he felt constrained by the size of the finished work and the limitations of printing presses that had to be taken into consideration, he continued to accept commissions for books and magazines for the rest of his life; Wyeth also found commercial work in advertising, creating calendars and ads for high-profile clients like Lucky Strike and
Coca-Cola
, as well as works for public and private buildings like the Federal Reserve Bank of Boston and the National Geographic Society's headquarters.
An N.C. Wyeth commercial illustration for Interwoven Socks. (P4a item # D9783249)

Wyeth's own work shifted dramatically in style over his lifetime, ranging from a rather impressionistic style in the 1910s to the almost hyper-realism of American regionalism as typified by
Thomas Hart Benton
and
Grant Wood
. His speed allowed him the opportunity to experiment – it was said that he could complete the entire process from the conception to the painting of a large canvas in three hours.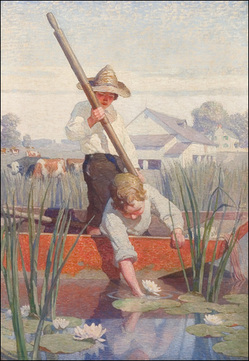 An N.C. Wyeth illustration from his early days at Chadds Ford. (P4a item # D9937983)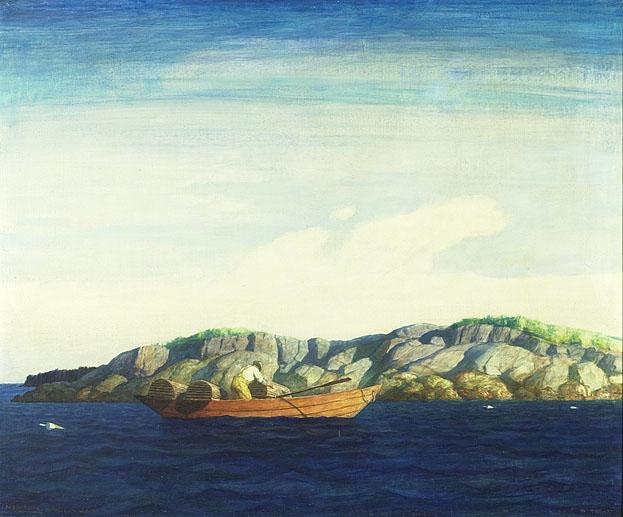 A 1938 painting by N.C. Wyeth of a fisherman hauling traps, done during his summers in Maine. (P4a item # A078296)

In some respects, Wyeth did not begin to gain respect for his own work until the 1930s, when museums began to seek out copies of his work. During this time, the family began summering at Eight Bells, an old sea captain's home named after a Winslow Homer painting, and Wyeth began painting seascapes. In 1941, at the age of 59, he became a member of the National Academy.
Tragically, on October 19, 1945, N.C. Wyeth and his three-year old grandson, Newell Convers Wyeth II, Nathaniel's son, were killed when Wyeth's car was struck by a train while crossing tracks near Chadds Ford.
Wyeth, a prolific artist, is well-represented in a number of museum collections, including the Brandywine River Museum in Chadds Ford and in Maine both the Portland Museum of Art and the Farnsworth Art Museum in Rockland. The Brandywine River Museum also maintains and offers tours of N.C. Wyeth's home and studio.