Clementine Hunter (1887 to 1988)
Clementine Hunter (pronounced Clementeen) was born to Creole parents, Antoinette Adams and Janvier Reuben, in late December of 1886 or early January of 1887 at Hidden Hill Plantation near Cloutierville, Louisiana. Hunter would never learn to read or write, later saying she only had about ten days of schooling, and was put to work in the fields when she was very young. At 15, she left Hidden Hill, which is considered to have been the inspiration for Uncle Tom's Cabin and is today known as Little Eva Plantation, for Melrose Plantation, where she would change her name from Clemence to Clementine.
At Melrose, she would pick cotton and give birth to her first two children. After their father died in 1914, she married Emmanuel Hunter in 1924 and the couple remained at Melrose, where they both worked. She would give birth to another five children, two of whom were stillborn, picking cotton until the day before she gave birth and returning to the fields shortly thereafter. By her mid-30s, Clementine would begin to work as a cook and housekeeper. She would never travel more than 100 miles from home.
By the 1930s, Melrose Plantation had begun to be something of an artist colony, and when New Orleans artist Alberta Kinsey left behind brushes and tubes of paint, Hunter painted her first picture – on a window shade. Her work would come to the attention of the plantation's curator, Francois Mignon, and in addition to supplying her with materials, Mignon would help Hunter get her work displayed locally. They would later collaborate on a Melrose Plantation cookbook.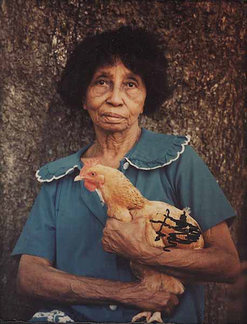 A color photograph of artist Clementine Hunter (Louisiana), in a blue smock holding a rooster. (p4A item # D9957218)

Hunter continued to paint, often producing artwork on any scraps she could find, from paper bags to window shades to jugs, hanging a sign outside her cabin that charged "25 cents to Look." Her works illustrated the daily life of the early 20th-century plantation – picking cotton or pecans, doing chores, commemorating baptisms or weddings – and as such make valuable socioeconomic and cultural contributions as well as artistic ones. She was a prolific painter, creating an estimated 4,000 to 5,000 works between the late 1930s and her death on January 1, 1988, but her work is also considered uneven, likely because so many pieces were created in haste and because she continued to live in poverty most of her life, so values for her work can vary widely. Works from the 1940s and 50s are typically considered her best works.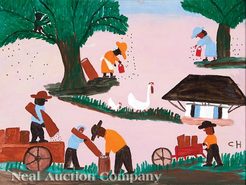 Clementine Hunter (American/Louisiana, 1886-1988) oil on canvas board painting, "Pecan Pickin'", circa 1955. (p4A item # E8882656)

In the 1940s, Hunter sold work for as little as a single quarter and by the late 1970s, she was selling pieces for several hundred dollars. By the time of her death in 1988, dealers were selling her works for thousands of dollars. Fame did find her late in life, with Hunter landing a solo exhibition, the first African-American artist to do so, at the Delgado Museum (now the New Orleans Museum of Art). She received an invitation to the White House from Jimmy and Rosalynn Carter and would receive an honorary Doctor of Fine Arts degree from Northwestern State University of Louisiana in 1986.
Hunter's work is naive and simplistic enough in nature that there have been instances of forgery. This is complicated by the fact that she painted on a wide variety of materials, rarely titled her works, and because they were originally sold from her front door for pocket change, there is rarely anything resembling a firm provenance. Her work also tends to sell in a price range that makes forgeries easy enough to pass off – they can sell cheaply enough without drawing suspicion and they tend to sell in a price point where buyers are often less likely to do or demand research and are unlikely to spend the funds for a full authentication.
Reference Note by p4A editorial staff, 2011.
Artist Note Courtesy of Rago Arts, October, 2019:

The descendant of enslaved people, Clementine Hunter was born in the Cane River region of central Louisiana at Hidden Hill, the infamous plantation said to have inspired Uncle Tom's Cabin. She worked for most of her life on the Melrose cotton plantation. A self-taught artist and one of the field's best-known, she didn't start painting until she was in her 50s. After work, Hunter recorded everyday plantation life from memory, whether picking cotton in the fields or baptisms and funerals. Her palette is bright, her faces usually dark in tone and without expression. She disregards perspective and scale. Her earlier work was on found material; she graduated to canvas and board when patrons gave her art supplies and orders for specific images which she often repeated on request. Her signature changed over the years from "Clemence" to "C H" to "CH" to a backward "C" superimposed over the letter "H". This is considered a fairly reliable method by which to date her paintings. Though she first exhibited in 1949, Hunter did not garner public attention until the 1970s when both the Museum of American Folk Art in New York and the Los Angeles County Museum of Art exhibited her work. Even with success, Hunter chose to stay in Louisiana, working at Melrose Plantation until it was (ironically) sold at auction in 1970. She lived out her days in a small trailer a few miles away. The sale stripped Melrose of many Hunter murals that adorned its buildings. Her African House Murals, painted in 1955, were preserved, and can be seen at the African House at Melrose Plantation, now a named National Historical Landmark.