James Montgomery Flagg (1877 to 1960)
James Montgomery Flagg, born in Pelham Manor, New York in 1877, is one of those interesting figures in history who actually did so much, but is only remembered for one thing! Flagg was a gifted artist, displaying a prodigy's talent; he created his first magazine illustration at age 12, and by the age of 14, he had become a regular contributor to Life. He actively pursued training for his talents – although he later claimed that he learned far more from the work of other artists – studying at the Art Students League in New York and taking the requisite time to travel abroad, studying art in Paris and London.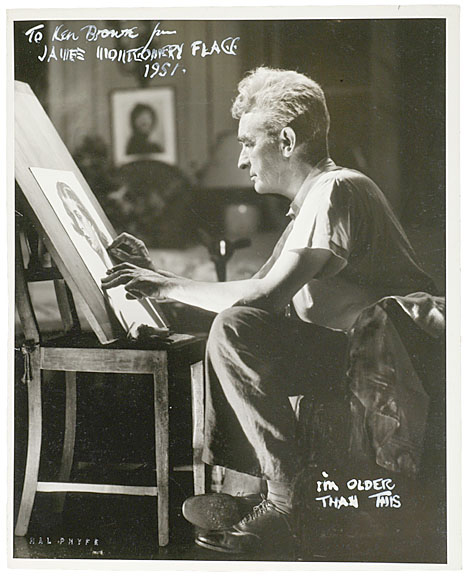 An autographed photo of James Montgomery Flagg at work. (p4A item # C240992)

Upon returning to the United States, he became a prolific illustrator, preferring to work in pen-and-ink sketches and supplying work for everything from books to political cartoons to advertisements. In the early 1900s, he illustrated a number of books, including Yankee Girls Abroad, An Orchard Princess, and Simon The Jester. His career as an illustrator in the heyday of magazines led to illustrations in a number of prominent publications including Ladies Home Journal, Cosmopolitan, and Saturday Evening Post.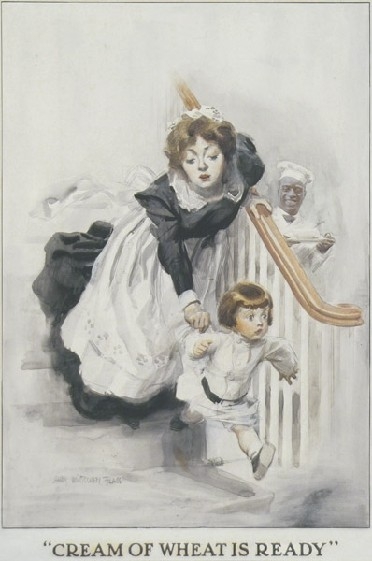 An James Montgomery Flagg advertisement for Cream of Wheat. (p4A item # D9852046)

He was a founding member of the Dutch Treat Club, a social club of illustrators, writers and actors. (Legend has it that the club formed organically in 1906 in the waiting rooms of Life offices, where artists waited each Tuesday morning to have their submissions reviewed.) Flagg was also a member of the Artists and Writers Club, writing and acting in silent films, a talent that led to his work on promotional films for the Marines and the Red Cross.
It was through this association that James Montgomery Flagg came to create his best-known work: the 1917 World War I Uncle Sam poster. This poster, similar to a pose adopted by Lord Kitchener in a British recruitment poster, was one of 46 he created for the war effort, and it's estimated that 4 million of the Uncle Sam posters were printed. Flagg later said that to avoid the scheduling of a model, he created a self-portrait that he simply aged with the addition of wrinkles and the white beard.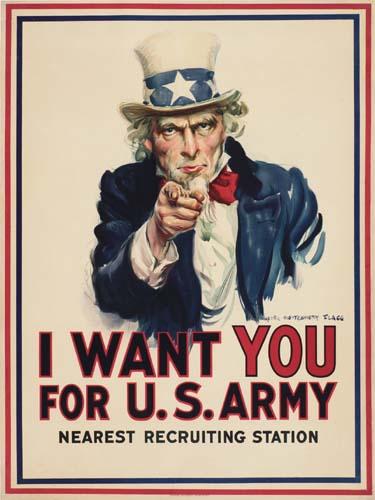 The classic "Uncle Sam Wants You" World War I poster by James Montgomery Flagg. (p4A item # B157825 )

After the war, Flagg spent most of his time creating illustrations, including sketches for many of P.G. Wodehouse's
Jeeves
novels, but he also continued to work in a number of mediums, virtually everything from charcoal sketches to oils to watercolors. In 1946, Flagg wrote an autobiography,
Roses and Buckshot
, containing many reprints of his portraits and sketches. Flagg died in 1960 and in 1980, he was inducted into the Society of Illustrators Hall of Fame. Examples of his work can be found in a number of museums including the Society of Illustrators' National Museum of American Illustration in New York.
Hollie Davis, p4A Senior Editor, with additional research provided by http://en.wikipedia.org/wiki/James_Montgomery_Flagg and the National Museum of American Illustration's site http://www.americanillustration.org/html/jmf/bio.html