A real photo postcard of Tsarevich Alexei Nikolaevich wearing a sailor suit

p4A ItemID E8913624

Real photo postcard of Tsarevich Alexei Nikolaevich wearing the sailor's uniform of the Standart

p4A ItemID E8912276

A brass railroad kerosene lamp removed from the Reading Railroad train wreck in Shoemakersville, PA

p4A ItemID F7959435

A Guglielmo Marconi Signed Real Photo Postcard

p4A ItemID F7943932
Real Photo Postcards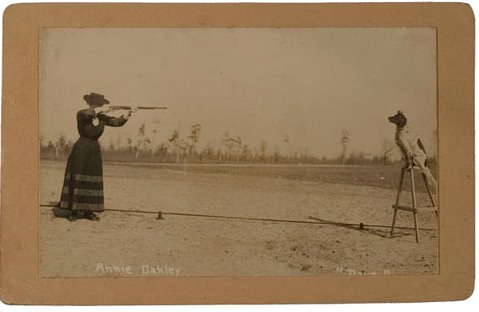 A real photo postcard of Annie Oakley demonstrating her shooting prowess, p4A item D9875435
Real Photo postcards are photographs that are reproduced by actually developing them onto photographic paper the size and weight of postcards, with a postcard back. There are many postcards that reproduce photos by various printing methods that are NOT "real photos"…the same methods used when reproducing photos in magazines and newspapers.
The best way to tell the difference is to look at the postcard with a magnifying glass. If the photo is printed, you will see that it is made up of a lot of little dots, the same as a photo printed in a newspaper. A "real photo" postcard is solid, no dots.
Most real photo postcards have identifying marks on the back, usually in the stampbox corner, that identifies the manufacturer of the photographic paper. The approximate the age of the Real Photo post card can be determined by knowing when the paper manufacturer was in business. The date range runs from 1904 until the present time. Most collectible Real Photo Postcards were made and used in the first half of the 20th century, many of them from 1904 to 1930.