Newcomb-Macklin Company
S.H. McElswain founded a framing company in 1871 in Evanston, Illinois, but the name by which it is known to collectors today comes from a partnership that began twelve years later in 1883, with McElswain's bookkeepers Charles Macklin and John C. Newcomb, who formed a partnership in order to assume command of the business.
The company, which would have enough success to support showrooms in Chicago and New York as well as a crew of traveling salesmen, owed much of its early success to the relationships it established with schools of artists, like the American Impressionists and the Taos School, as well as with specific artists such as John Singer Sargent, Maxfield Parrish, George Bellows and many others. By working directly with their important artist clients to develop frame styles and finish treatments to complement their paintings, Newcomb-Macklin developed powerful relationships and placed their frames in the finest art collections in the country.
They also worked with only the best in terms of designers and craftsmen, producing some of the most beautiful and original Arts & Crafts frames in America. Some of their most famous frames are based on reproductions of the work of famed architect Stanford White. Newcomb-Macklin acquired the rights to White's work after his assassination in 1906.
Newcomb-Macklin frames have a distinctive construction that makes them readily identifiable. Their corner splines (spline is basically a fancy word for slat) are unique and are sometimes referred to as perpendicular. Unlike most frames which are joined with a traditional 45-degree miter cut, a butterfly joint or perhaps a dovetail joint, Newcomb-Macklin frame corners are essentially a separate piece, like a chunky V-shaped section, between the side slats of the frame. (It might be a little hard to visualize, but by clicking on the photo below and looking at the enlarged view, one can get a better idea of this distinctive construction.) They are sometimes factory stamped and/or labeled, but generally identification can be done simply on the basis of the corner construction.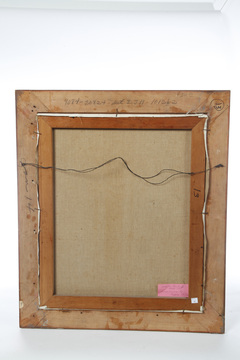 The back of a Newcomb-Macklin gilt frame. (p4A item # E8873128)

In 1979 the Newcomb-Macklin company was purchased by the Thanhardt-Burger Corporation, which had themselves specialized in producing handmade frames since 1927. With the Newcomb-Macklin roots, Thanhardt-Burger is now considered to be the oldest continuously operated frame-making company in the United States.