John Ritto Penniman (1782 to 1841)
Born in Boston, John Ritto Penniman came from a talented family, his father was a physician and entrepreneur, and his ten siblings include booksellers, an artist and inventor, and a teacher. Penniman trained as an ornamental painter in Roxbury, Massachusetts, which was, at the time, a community of artisans, including clock and furniture makers. Some of his early work was as a dial painter for noted clockmakers Aaron and Simon Willard.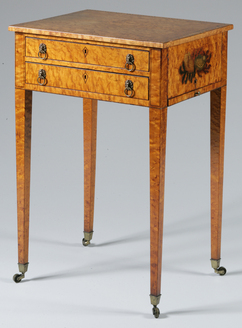 A Federal work table possibly by Thomas Seymour with paint decoration attributed to Penniman
(p4A item # E8974306)

Penniman later moved to Boston and successfully embedded himself into a network of clock and furniture makers, including Thomas Seymour and John Doggett. He also increased his versatility by expanding his business into carriage and architectural painting, as well as numerous other related fields. He advertised throughout New England:

John R. Penniman… will execute MILITARY STANDARDS, with original designs – CLOCK DIALS for Steeples, and the inside of Public Edifices – MASONIC PAINTING of every description – Designs for Masonic and other Diploma – ORIGINAL VIGNETTES for title pages – Sign & Ornamental Painting, in all their various branches – LANDSCAPE PAINTING – VIEWS OF GENTLEMEN'S SEATS, if required.

By the eighteen-teens, Penniman was also working in prints as a designer for certificates, etc., and he was among the earliest lithographers in the nation. He befriended, and worked for, portraitist Gilbert Stuart, and did aspire to higher forms of art. He did paint a few portraits, including three members of the Willard family of clockmakers.
Penniman's two major works were large paintings, one on canvas of the Gloucester "sea serpent," which he sent on tour and was exhibited at Peale's Museum in Philadelphia. His other, more famous work, was a "transparency" of the Conflagration of the Exchange Coffee House, Boston. The building, designed by Asher Benjamin, burned in 1818, and Penniman depicted this scene on a fifteen by fifteen sheet of oiled paper so that it could be backlit, which, given the subject, must have been a sight to behold. Penniman also executed this scene on canvas, which survives in a private collection (the location of the transparency, or if it even survives, is not known).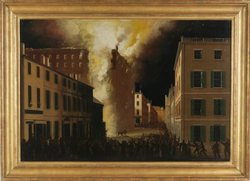 Penniman's Conflagration of the Exchange Coffee House, Boston. This version was painted in 1824.
(p4A item # E8932731)

Penniman's versatility and artistic success were, unfortunately, marred by a rocky personal and financial life. He was kicked out of the Masons in 1821, allegedly for his excessive drinking. Financial difficulties compelled him, in 1827, to have an auction of his works and supplies. This infusion of cash was apparently not sufficient as Penniman spent time in debtor's prison, and in 1834, was imprisoned again, this time for printing counterfeit money.
By the late 1830s, Penniman moved to Baltimore, where his son lived, and there died penniless and disgraced in 1841.