Eames Chairs
Seating Classics by Mid-Century Designers Ray & Charles Eames: The market for mid-century furnishings and accessories is still hot, and among the hottest are chairs by husband and wife team, Ray and Charles Eames. Collectors love the clean lines of these classic designs, many of which are being manufactured today. Here's what it will cost to own both new and vintage models.

Ray & Charles & the Eames Era
Few designers contributed more to mid-century design than Ray (1912-1988) and Charles (1907-1978) Eames. Married in 1948, Charles was an architect, and Ray, a painter and illustrator. They met at Cranbrook Academy of Art in Michigan where Charles ran the Design Department.
Together, the Eameses produced leading edge designs for a range of products including furniture, textiles, graphics, films and toys. According to Sally Hoban in her book, Collecting Modern Design, the couple believed that "new technology would lead to good design that would improve peoples' lives both functionally and intellectually."

Inspired by Frank Lloyd Wright & Alvar Aalto
Charles was inspired by the work of Frank Lloyd Wright and Alvar Aalto and their use of organic forms. Aalto had also been experimenting with molded plywood, and had early successes in creating the compound curves that fit the human body and mimicked those found in nature. In 1941, experiments with molded plywood lead to a contract with the U.S. Navy for plywood leg splints.
In 1940, Charles and Eero Saarinen submitted the winning entry for the Organic Design in Home Furnishings Exhibition at the Museum of Modern Art in NY. Their entry included chair prototypes designed for mass production, but these chairs were never made, as manufacturing technology had not kept pace with design.
By 1945, the industrial needs of WWII made more designs possible. Ray and Charles began designing furniture of plastic, fiberglass and aluminum as well as plywood; inexpensive materials that would make affordable furniture, and satisfy the couples mission of, "getting the most of the best to the greatest number of people for the least amount of money."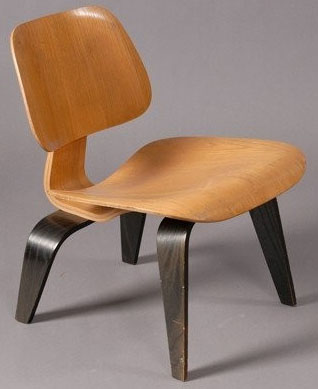 An LCW side chair by Charles and Ray Eames for Evan Products Company, California
p4A item D9780269

The LCW & DCW Molded Plywood Chairs
The LCW (lounge chair wood) DCW (dining chair wood) were the Eamses breakthrough designs. The chairs have molded plywood seats and backs, and come in a variety of sizes and finish variations. The LCW and the DCW are all plywood, but the DCM and its slightly larger, side chair version, the LCM (low side chair) have molded seats and backs affixed to a chrome fame via rubber shock mounts, another Eames innovation that solved the previously insoluble problem of successfully fastening two contrasting materials together in an attractive and durable way.

An Eames lounge chair and ottoman
p4A item D9667033

The Eames Lounge Chair and Ottoman
Modeled after an English club chair, the Eames lounge chair and ottoman haven't been out of production since their debut in 1951. The original chair was made of shells of laminated rosewood.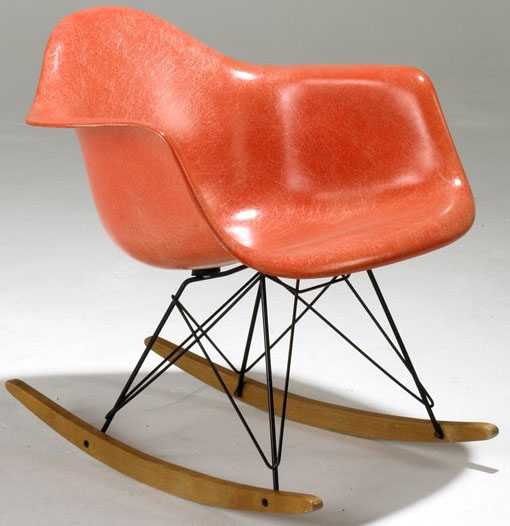 Charles Eames for Herman Miller, a Modernist rocking chair with a fiberglass shell and birch rockers, American, 1958
p4A item D9700067

Eames Fiberglass Shell Chairs
Possibly the most easily recognizable of all the Eames chairs, variations on the shell chair appeared in a multitude of venues, and as knockoffs by competing manufacturers. The shell chair could be dressed up with upholstery and wire legs (Eiffel tower base) or stripped down to its fiberglass shell with straight legs. There was even a rocking chair version. Values depended on finishes, variations, color and conditions, a rocker being one of the most valuable, basic shells in a common colors being the least.
Reference: Collecting Modern Design by Sally Hoban, Miller's c2001.
-Reference note by p4A Contributing Editor Susan Cramer.