Newcomb College Art Pottery
Before it was revered for its art, and more specifically for its art pottery, Newcomb College was the country's first degree-granting college for women within a major university. Its founder, Josephine L. Newcomb, envisioned an environment in which women would learn both practical skills and academic knowledge when she proposed the creation of the college in the memory of her daughter H. Sophie Newcomb, who died at 15. New Orleans's Tulane University agreed to this unique arrangement in 1886. Newcomb's innovation provided women with the same educational opportunities as men, but without having them attend classes together. For its first three decades, Sophie Newcomb Memorial College was housed in and around the Robb-Burnside Mansion, near but not on the Tulane campus.
In 1896, with the arrival of its first kiln and first director, Mary Given Sheerer from Rookwood Pottery, the pottery was launched. Although its formal name was Newcomb Pottery, the mark chosen was a stylized NC and its creative works are known today as "Newcomb College." Designed as a "model industry," the pottery workshop attracted students from local art and china-decorating clubs, especially those organized by William and Ellsworth Woodward. The brothers, who developed The New Orleans Art Pottery in 1888, were the first to suggest a pottery for the women's college. Although Newcomb Pottery attracted notable master potters such as Joseph E. Meyers and George Ohr, the wares produced from 1896 to 1901 were, for the most part, experimental, naive and clumsy.
From the beginning, there was a division of labor at Newcomb Pottery. Ceramists and master potters hand-turned, hand-built, glazed and fired while undergraduates, graduate students and a few regulars who graduated from Newcomb College were responsible for decorated the wares. With the student's trained hand, the pottery surface was gently incised (cut into), excised (cut away), modeled (made uneven or shaped) and/or colored (painted).
The first collectible pottery to emerge was underglaze slip decorated and underglaze painted biscuit ware. Colors were typically bright with a clear, transparent glaze.
In 1901, according to the Louisiana State Museum Web site, a system of registration marks was initiated to help with the increased inventory of pots. "Alphabetic and numeric codes indicating the year of manufacture were stamped, incised or painted on the bottoms of pieces, along with the potter's and decorator's ciphers, and often a clay body or glaze symbol."
Newcomb Pottery reached the pinnacle of success in its second period, 1902 to 1910. The distinctly Southern masterpieces created at this time are its most valuable and most collectible. Students sponged the surfaces to create texture. They incised lines and colored them black much like an Arthur Dow woodblock print. Their designs started at the top and ended at the bottom of a vase. The glazes were glossy with blue, green, black, cream and yellow the dominant colors. Today prices of Newcomb College vases, bowls, and other accessories from the "high gloss" period are only minimally affected by damage.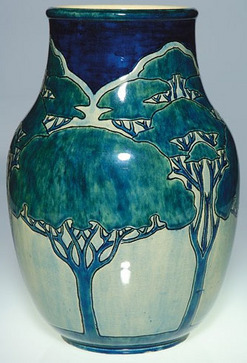 A Newcomb College pottery vase from the first period, decorated by Leona Nicholson and typical of works from the period. Note the incised and darkened outlines and the bold colors. (p4A item # D9819917 )

With the arrival of ceramic chemist Paul Cox in 1910, Newcomb Pottery moved from glossy to matte and semi-matte glazes. This emphasis continued through 1919. The look of Newcomb pottery under Cox was radically different from its 1902 to 1910 designs. Surfaces were now only excised, not outlined, and the dominant motifs were soft, muted low relief flowers and atmospheric Bayou scenes.
During the Cox era, Sadie Irvine decorated vases with a full moon behind Spanish moss draped live oak trees. They appealed to collectors then and now. Considered by Cox to be the college's greatest designer, Irvine was active longer than any other member of the pottery, serving for fifty-two years as student, decorator, instructor, and finally as the head of the ceramics department from 1942 until her retirement in 1952. Despite Irvine's stereotyped scenes and motifs, no Newcomb College pot was ever duplicated, unless requested by the buyer. The pieces were always hand-made or hand-built and hand-painted.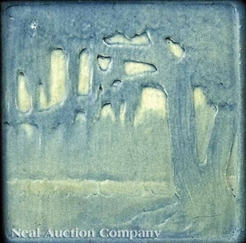 A Newcomb College pottery vase from the Paul Cox era decorated by Sadie Irvine and typical of works from the period. (p4A item # D9760318)

After 1919, Newcomb Pottery and the Arts & Crafts movement declined in popularity. The college closed the pottery workshop in 1939 and replaced it with the Newcomb Guild and a line of modern, undecorated utilitarian wares. The Guild never gained sufficient public support and ceased operation in 1940.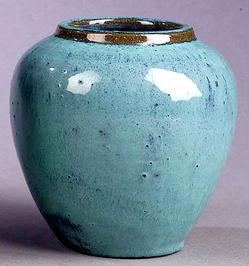 A Newcomb Guild pottery vase from the later years of the pottery. Note the decreased distinction in style and decoration. (p4A item # D9981450)

In the wake of Hurricane Katrina and the rebuilding of Tulane's campus and mission, the fate of Newcomb College itself is now in doubt. (Newcomb College should not be confused with the H. Sophie Newcomb Memorial College Institute, a organization that continues to run programs once run by Newcomb College.) Tulane's plan in 2006 for restructuring involved dissolving Newcomb College, but suits regarding donor intent filed by Mrs. Josephine Newcomb's heirs have kept the issue from being completely resolved.
Reference note by p4A.com Contributing Editor Pete Prunkl with additional research by Hollie Davis, p4A Senior Editor, June 29, 2009.