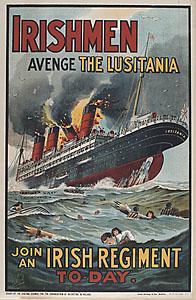 WWI Poster, Irishmen Avenge the Lusitania, p4A item A032936
RMS Lusitania
First class dining saloon of the RMS Lusitania
RMS Lusitania
The ocean liner Lusitania was launched in 1907 by the Cunard company as part of their drive to dominate the North Atlantic passenger trade between England and New York.
The Lusitania, and her sister ship, the RMS Mauretania, were the largest ships ever constructed at the time of their launch, having fifty percent greater passenger space than their rivals. They both utilized state-of-the art turbine propulsion systems, which allowed them to attain record speeds while at the same time producing less noise and vibration compared to expansion engines of the time.
During World War I the German U-20 submarine identified the Lusitania off the coast of Ireland on 7 May 1915. It torpedoed the liner and sank it in 18 minutes. Of the 1,959 souls on board, only 761 survived.
Among the 1,198 people killed by the German U-Boat was Elbert Green Hubbard (born 19 June 1856), the founder of the Roycroft artisan community in East Aurora, New York and one leaders of the Arts and Crafts Movement in America.
Reference note by p4A editorial staff, October 2011.