Anna Mary Robertson Moses (Grandma Moses) tempera on board painting, The Last Load, signed Moses lower right. Titled the last load, dated Sept. 18, 1953

p4A ItemID E8905079

Grandma Moses oil on Masonite painting, The Old Snow Roller, signed MOSES and dated 1948

p4A ItemID E8897291

Anna Mary Robertson Moses (Grandma Moses) oil on Masonite painting, Pennsylvania Barn, signed MOSES lower center; also dated June 4, 1954, numbered 1621 and titled Penn Barn

p4A ItemID E8897289

Grandma Moses (American, 1860-1961) tempera on Masonite, "Home To Grandpa's", signed 1944

p4A ItemID F7981141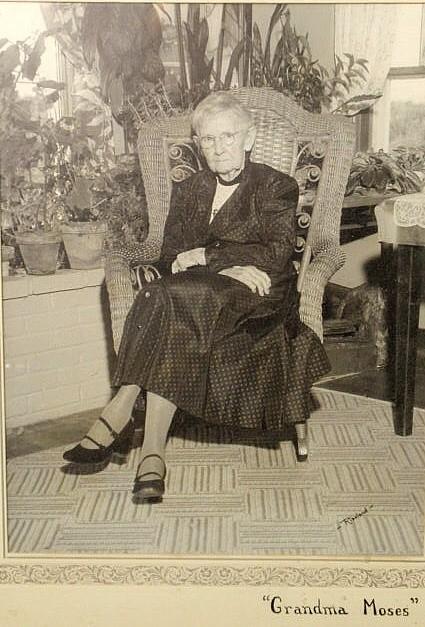 photograph of Grandma Moses, photograph by Rudolph Rissland (p4A item E8981620)
Anna Mary Robertson Moses 'Grandma Moses' (1860-1961)
Anna Mary Robertson, more commonly known as Grandma Moses, was born in 1860 in Greenwich, New York. She grew up in a large family, where the girls were taught how to perform a variety of domestic tasks. After she married Thomas Salmon Moses, Grandma Moses spent nearly 20 years raising her children on their farm. Only after her husband's death in the late 1920s did Moses begin her career as a full-time painter. She captured the nostalgia and simplicity of life in her ordered, brightly colored compositions. These paintings evolved into later depictions of undulating hills filled with tiny figures engaged in various activities. Living to the age of 101, Grandma Moses was not discouraged by her failing eyesight and turned to yarn and tile work when she could no longer paint.
-Information courtesy of Skinner Inc., September 2006.
Grandma Moses spent much of her life as a homemaker on a rural New York farm. Moses didn't begin painting until she was into her seventies. She placed a few of her paintings for sale in a local drugstore where they sat, unsold. It wasn't until New York art collector Louis Caldor happened to see the paintings in that window, almost a year later, that Moses had her first sale. Quite taken with her simple and naive style, Caldor introduced Moses to art dealer Otto Kallir. Through Kallir, Moses' work was included in a show of self taught artists at the Museum of Modern Art. She later became known as Grandma Moses, as an interest in folk art began to grow.
-Information courtesy of Northeast Auctions.