Grant Wood (1891 to 1942)
Grant DeVolson Wood was born February 13, 1891 in Anamosa, Iowa. When he was ten, his father died, prompting the family to relocate to Cedar Rapids, where he eventually found work in a metal-working shop. Finishing high school at Washington High School, he entered art school in Minneapolis in 1910. After a year in Minneapolis, he returned to Iowa and taught at a one-room school. In 1913, he returned to art school, this time as a student at the School of the Art Institute of Chicago. While active as a painter for most of his life, Wood created a body of work that includes lithographs, ink and charcoal drawings, and pieces in wood, metal and ceramics.
Throughout the 1920s, he made a number of trips to Europe to study painting, including the styles of impression and post-impressionism, but found particular inspiration in the work of Jan Van Eyck, the Flemish artist of the 15th century. He began to gain vision and develop his own style, occupying the loft of a carriage house that doubled as a studio from 1924 to 1935 and founding the Stone City Art Colony in 1932 in an effort to help other artists who were struggling to find work during the Depression.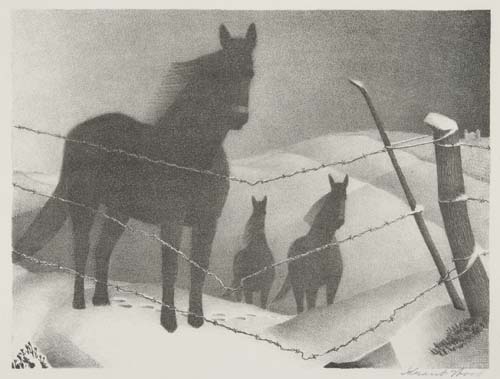 Grant Wood lithograph, February. (p4A item # D9975543)

In 1934, Wood began teaching painting at the University of Iowa's School of Art, lecturing there and elsewhere to promote Regionalism. He also supervised mural projects, including some that were part of the WPA's efforts. One day shy of his 51st birthday, on February 12, 1942, Wood died of liver cancer at the university hospital. His estate was left to his sister, Nan Graham. (Nan was the model for the farmer's wife in
American Gothic
.) The majority of his personal possessions and art remained in her possession until her death in 1990, when they were bequeathed to the Figge Art Museum in Davenport, Iowa.
American Gothic
, Wood's most iconic work was first exhibited in 1930 at the Art Institute of Chicago where it remains today.
Hollie Davis, p4A Senior Editor, February, 2010