Sgraffito
Sgraffito derives from graffiare (Italian for "to scratch") and graphein (Greek for "to write") and is yet another example of a term that has been slowly adapted (or corrupted, some might say) for use in the American marketplace. Technically and historically speaking, sgraffito is used to describe a method of fresco used on walls (amazing examples still survive on even the exteriors of old buildings throughout Europe) and a means for decorating ceramics. In terms of both fresco wall decoration and ceramics, it means applying multiple layers – plaster for walls, slip for ceramics – and then scratching the upper layer away to reveal the contrasting color.
A Berks County, Pennsylvania redware sgraffito plate, circa 1820, attributed to Solomon Grimm. (p4A item # E8891611)

Perhaps it is the multicolor nature of sgraffito as traditionally performed or simply the incising, scraping away an upper layer of, say, cream to reveal the layer, perhaps red, beneath, that allowed it to become tangled up with the decoration of redware pieces. Redware objects – plates, bowls, chargers, even hollow ware pieces like jars, were frequently decorated with multiple colors of slip and glaze, most commonly cream, yellow, red, and green. The technique in American redware is most frequently associated with the Germanic populations known as Pennsylvania Dutch (more appropriately Pennsylvania Germans and more accurately of the general mid-Atlantic region) and the Moravians who settled in Pennsylvania and the southeastern United States. Both populations used traditional Germanic decorative motifs: birds, tulips, hearts and animals. In this version of sgraffito, designs are incised into "leather-hard" clay, clay that has hardened but can still be worked in limited ways, and then the pieces are fired. While there is an element of "scratching" and the surface often has multiple colors, one layer of color is not removed to expose another, but rather the slip is scratched away to reveal the clay body.
American sgraffito-decorated redware has great appeal among collectors, interesting pottery collectors as well as folk art buyers and is exponentially more popular than European redware. As with all pottery, desirability has to do with form and condition, but sgraffito is, in and of itself, very rare. While sales of large collections like the Shelley collection can skew the perception of availability, in reality, very few pieces appear on the market each year. Meanwhile, however, folks like Lester Breininger offer incredible reproduction pieces!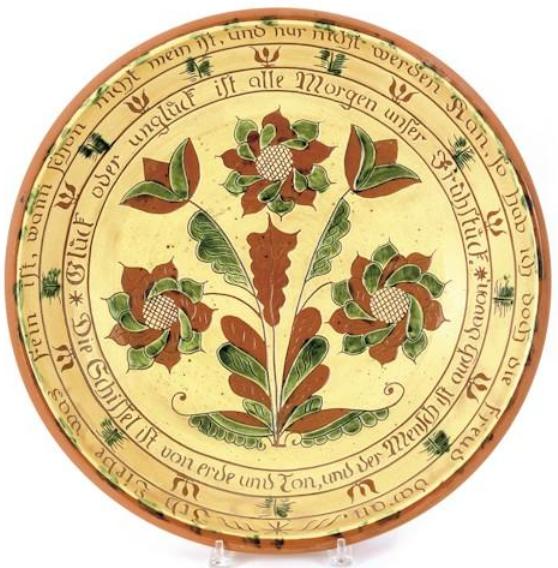 Breininger Pottery sgraffito redware charger. (p4A item # E8983763)