Cartouche – Definition
The decorative arts world has many "squishy" and vague vocabulary words, but few are "squishier" and vaguer than cartouche. Originally, the term comes from Egyptology and is used to describe a oval enclosing hieroglyphics and having a horizontal line at one end. (The line denotes royalty.) The oval had significance not unlike that of a closed circle, in that it was believed that an oval around a person's name provided protection to that person. The strong association with the god-like royalty of ancient Egypt and the "good luck charm" nature of the symbol meant that it was eventually co-opted by the rest of the population and, as a result, it appears on all manner of structures and objects from the era.
Centuries later, when Egypt was a land divided constantly by conflicts, soldiers, seeing these ovals everywhere, are said to have found them to resemble the paper cartridges used in muskets. The French word for cartridge is cartouche and thus it became, in its original use, the term applied to this particular hieroglyphic element.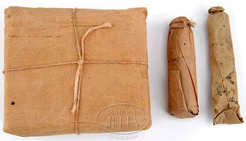 A Civil War-era example of a paper cartridge. (p4A item # D9865000)

Before long, however, the word cartouche began to be applied to any "ornamental enframement" as the Getty's Art and Architecture Thesaurus puts it. That resource defines the term as being used to denote a space for "an inscription, monogram, or coat of arms, or ornately framed tablets, often bearing inscriptions," and cartouche is often applied in this sense for the ornamentation surrounding a monogram or inscription on a piece of silver. The piece pictured here has a classic example of a "blank cartouche."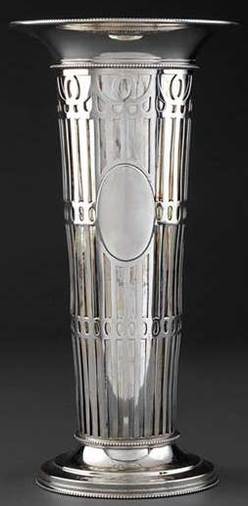 Sterling silver vase with blank cartouche. (p4A item # E8906323)

While to most people the most accurate definition continues to apply only to this ornamental frame around an open space, it is also often used for objects like oval mirrors, which might be described as cartouche form if they have a heavily ornamented and decorated oval frame. In its most diluted "area of ornamentation" usage however, cartouche has also become the term for the central decorative ornamental element at the top of forms like a desk-and-bookcase or a high chest, whether they are oval in shape or not.