Tobacco Baseball Cards 1897-1911
The combination of two great American past times, baseball & smoking join forces to create collectible tobacco baseball cards that have been a popular commodity since their introduction in 1887.

A Boy and his Cards
If you could ask any boy who grew up in 20th century America to turn out his pockets, among the bits of string, lucky rocks and grimy coins you're bound to see a bundle of baseball cards; dog eared and well-thumbed, separated by teams, favorite up front, doubles in the back. Baseball cards have been eagerly sought since the first tobacco company issued the first ten cards in 1887. Card collectors have more than value in mind. There's a sentimental attachment; the ability of certain cards to carry their owners back to summer nights under the lights, or dusty days shagging flies. Baseball card collectors just plain LOVE their cards, as Associated Press Correspondent Warren Levinson put it when his sister accidentally threw away his cards, "I hope someday to forget because I can't possibly forgive."
Tobacco Cards
From 1898 until 1911, baseball cards were premiums offered exclusively by tobacco companies. A large number of companies issued series of cards with their products to stimulate sales. Sometimes, the cards depicted sports heroes, only some of whom were baseball players. Here's a brief history of the most common tobacco cards.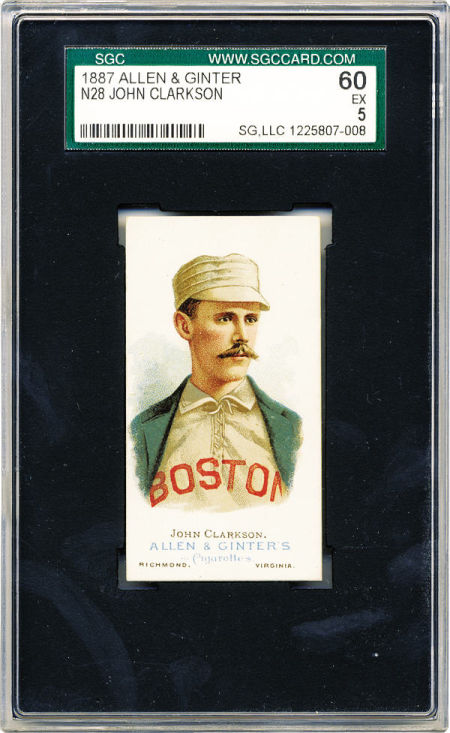 An Allen & Ginter tobacco card, 1887, John Clarkson, p4A item D9852967
Allen & Ginter Cigarettes 1887- The very first set of 50 chromolithograph trading cards, only 10 of which were ball players.
Old Judge Cigarette Factory- Old Judges are sepia toned albumen photographs mounted on cardboard. No one has any idea how many players were issued, but at least 2,400 are known.
Newsboy Cabinets 1888- Newsboy Cut Plug Tobacco Brand. Newsboy issued 800 sepia toned photo cards, mostly of actors, but 10 were baseball players.
Mayo Cut Plug Tobacco 1895- Forty five players were issued in photomechanical formal portraits that resemble studio or mug shots.
Ramly Turkish Cigarettes 1909- Ball players photomechanicals in oval frames with elaborate embossed gold borders. This series has 120 players, and cards in good condition are difficult to find.
Twentieth Century Tobacco 1909- Twentieth Century issued 524 different players including 134 minor leaguers. The most valuable cards of all times are from this set including the Honus Wagner T206 that recently sold for $2.35 million. Wagner reportedly felt smoking set a poor example for the kids, and asked that his card be withdrawn. Consequently, only 50 or 60 of this card are thought to exist. Another high priced card is Eddie Plank who played for Philadelphia. Plank was a left-handed pitcher and Hall of Famer, but his card is in the top three price wise because someone dropped the printing plate before the run was complete.
Fez & Old Mill Cigarettes (T3) 1911- One hundred ball players were issued in this series of chromolithographs with hand coloring that are considered the most beautiful of baseball cards. These cards are prized by collectors who call them Turkey Reds.
Mega cigarette Double Folders feature two players in action poses on the same card. One showed when the card was folded, the other when the card was unfolded. These litho, halftone prints were the VERY FIRST cards with player statistics on the back.
Gold Borders 1911- These photomechanical prints were issued by 10 tobacco companies including American Beauty, Polar Bear, and Sweet Caporal. They were mostly head shots, but include a few action poses which bring the highest prices today.

Tobacco Sells Itself
Even though tobacco companies were still including baseball cards as premiums with their products, the days of the tobacco cards were slowly coming to an end. The American Tobacco Company, once one of the biggest users of cards as a promotional tool came to realize that their products sold quite well on their own, making the production of the cards an unnecessary expense. Fortunately for American men and boys candy companies came in to pinch hit.

Baseball Cards 1914-1928
Beginning around 1914, candy manufacturers took over the baseball card industry and cards issued by gum and candy makers gain in popularity.
Cracker Jacks and Crises
Not surprisingly, the popularity of the cards relied heavily on the popularity of the game itself, and over the years, the sport would suffer setbacks as scandals became public. In 1914 though, baseball was still the Great American pastime, and when baseball teamed up with its favorite ballpark snack, the Cracker Jack card was born.
Free Prize in Every Box
Cracker Jack was one of the first non-tobacco companies to offer baseball cards and they were an almost instant hit with kids. Their first series included 144 cards available only in boxes of the caramel coated popcorn and peanut snack. By 1915, fans could get additional cards by sending coupons or twenty five cents. These eye-catching colored cards featured players in uniform, many in action poses against a bright red background. In 1916 both The Sporting News and Fleischman Bread introduced popular lines of cards. Both series were black and white photographs, the Sporting News cards being head shots and the Bread cards mostly action poses.
"Say it Ain't so, Joe"
Baseball cards took a hit along with baseball itself with the 1919 news that the Chicago White Sox had thrown a World Series game. Though millions of words have been published about the scandal, most of the details remain unclear. However, enough evidence was uncovered for Kennesaw Mountain Landis (baseball's first Commissioner) to impose a lifetime ban from baseball on 8 players, including Shoeless Joe Jackson. The others were Buck Weaver, Swede Risberg, Chick Gandil, Claude "Lefty" Williams, Happy Felsch, Fred McMullin, and Eddie Cicotte.
Thanks to the scandal, interest in baseball and consequently baseball card collecting was at an all time low. Then Babe Ruth appeared on the scene. An excellent fielder and even better hitter, Ruth was admired by adults for his abilities, and beloved by kids for his attitude. His growing popularity was reflected in the entry of a new series of cards introduced in 1928 by Fro-Joy, an ice cream company. There were just six cards in the wildly popular series, and every card featured the same player- the Babe was just what baseball, and baseball cards needed.
-Reference note by p4A Contributing Editor Susan Cramer.