Ferdinand A. Brader (American, born 1833), pencil drawing of a farm scene of The Property of Joseph S. and Mary H. De Long, Topton, Berks County, Penna 1881

p4A ItemID E8940620

An 1886 pencil on paper drawing by Ferdinand A. Brader depicting the Lamielle residence in Harrisburg (Louisville), Stark County, Ohio

p4A ItemID E8884890

Ferdinand A. Brader (Swiss/American, born 1833) pencil on paper drawing, The Property of Peter Yoder, Wadsworth Tp. Medina Co. Ohio. 1882, signed lower left and numbered 685

p4A ItemID E8874747

Farm Scene By Ferdinand Brader, Wayne County, Ohio, dated 1888. Graphite on paper, signed, Gindelsperger residence

p4A ItemID F7990367
Ferdinand A. Brader (1833-?)
An untrained, itinerant artist, known for his large, detailed, birdseye view, pencil drawings of farms and other dwellings, Ferdinand A. Brader was born in Switzerland in 1833. He migrated to the United States and Pennsylvania in the early 1870s.
Most of his drawings are quite large, some measuring 50″ by 36″, and were done using graphite pencil. In 1893 he began incorporating colored pencil into his pictures. Most of his drawings were numbered, and he did some 300 drawings in Pennsylvania before moving to Ohio.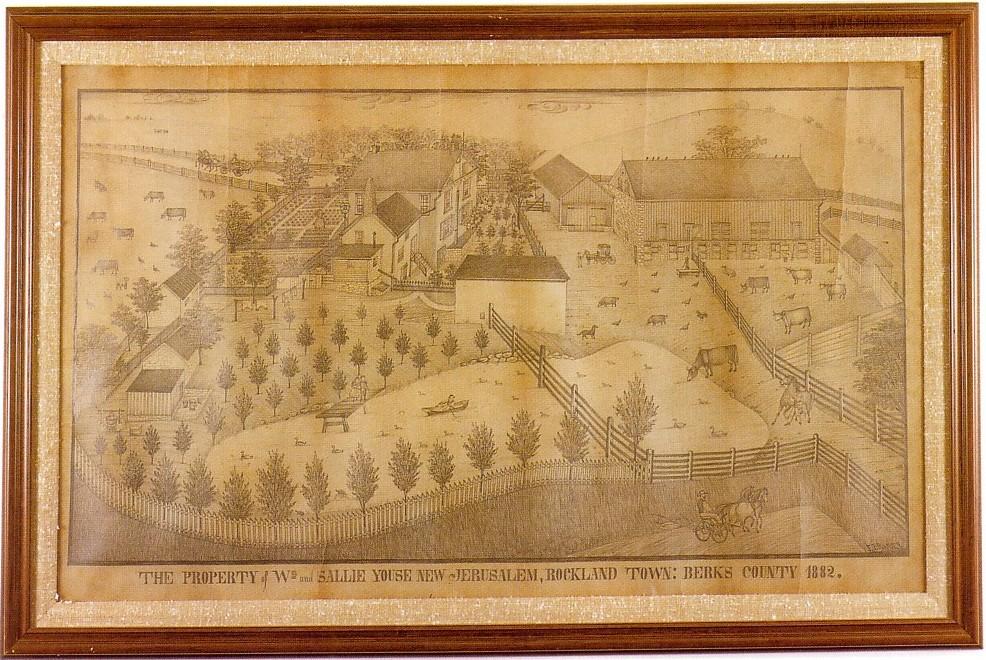 Berks County, PA farm scene by Ferdinand A. Brader
In addition to farm scenes, Brader recorded several commercial operations and many smaller works, including marriage certificates and bouquets of flowers, both with and without a Bible.
His Ohio drawings first appear in 1884 and Brader continued to draw these scenes through 1895. The Ohio drawings were done in the counties of Portage, Medina, Wayne, Stark, Tuscarawas, Columbiana, Summitt, and Carroll.
Brader started numbering his larger drawings in Pennsylvania, but continued in Ohio where the highest known number is 980.
From early records it is known that Brader was a patient at the Portage County Infirmary in Ravenna, Ohio, from November 1891 to April 1892. It is not presently known what happened to him.
To date, there have been two exhibitions of his work. In the late 1980′s a show of mostly Pennsylvania pictures was held at the Reading Historical Society Museum in Reading, Pennsylvania, and in 1991 an exhibition of Ohio drawings was held at the Massillon Museum in Massillon, Ohio.
Brader's drawings are in collections of the Chicago Art Institute, the Canton Museum of Art, the McKinley Museum of Canton, Ohio, the Historical Society of Berks County, Pennsylvania, the Massillon Museum (Ohio), the Metropolitan Museum of Art, The Library Company of Philadelphia, and the American Folk Art Museum in New York City.
p4A.com acknowledges the scholarship and research of Darwin D. Bearley, Akron, Ohio, and appraiser and Brader scholar Kathleen Wieschaus of Canton, Ohio, in assisting with this biographical sketch.
Update: The Canton Museum of Art is planning a major exhibition on the work of Ferdinand Brader in 2014. Information about this important exhibit may be found at www.BraderExhibit.com. Exhibit curators are interested in learning about Brader works not presently known. They encourage and welcome contact from private owners of Brader work or other information about the artist.