The Sarcophagus in Decorative Arts
Derived from the Greek sarx, meaning flesh, and phagein, meaning eat, a sarcophagus is, essentially, a container for a body, much like a coffin or casket. Historically, sarcophagi were typically made of stone (though sometimes of other materials, such as wood or metal), with a relief-carved or pediment top, and designed to be above ground, and have been used by many cultures since ancient times.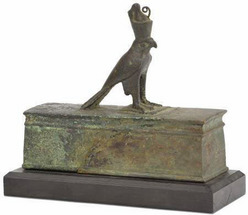 An ancient Egyptian miniature bronze sarcophagus

(p4A item # D9789825)

In the early modern era, the sarcophagus shape began infiltrating the decorative arts, appearing as a design element in pieces of furniture, or contributing its entire form to smaller objects. The most common places to find the sarcophagus shape are on the pediments of sophisticated case furniture, most notably clocks, and in tea caddies, which from the late eighteenth through the end of the nineteenth century, often drew their inspiration from sarcophagi, even if stylized.

Boston Queen Anne tall case clock with a pediment in the shape of a sarcophagus

(p4A item # E8909171)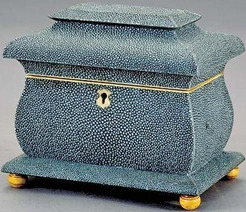 Victorian tea made of sharkskin (called shagreen) and in the form of a sarcophagus

(p4A item # D9814453)

It is difficult to generalize about the shape that a sarcophagus takes when it is integrated into decorative arts objects. The variety of sarcophagi-inspired objects is as diverse as the ancient sarcophagi themselves. From subtle appearances, such as on the bases of this pair of French bronze girandoles…
A pair of French Renaissance Revival bronze girandoles
(p4A item # D9668672)

and lid of this American Victorian sewing table…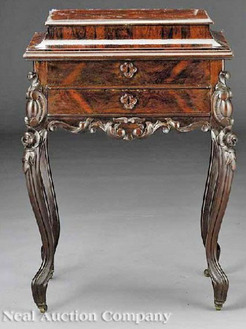 Victorian Rococo Revival rosewood sewing stand by Mitchell and Rammelsburg
(p4A item # D9837246)

to overt adaptations, such as this English cellarette…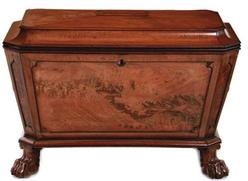 An English Regency mahogany cellarette

(p4A item # E8929234)

and tea caddy…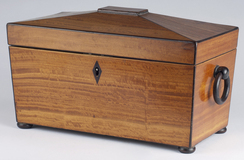 English Regency mahogany tea caddy with ebonized handles

(p4A item # D9661450)

even to objects seemingly modeled after real sarcophagi, such as this Continental bronze inkstand.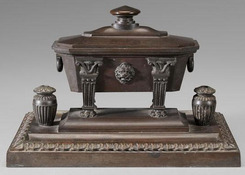 Late 19th-century Continental bronze inkwell

(p4A item # E8948126)