Charles Marion Russell (1864-1926)
Charles Russell was as famous for his personal character as he was for his artistic career. A simple and modest man, he left the Midwest to pursue a life on the frontier. While residing primarily in Montana for the remainder of his life, Russell, or "Cowboy Charlie", went on to become the state's favorite son and achieve great renown for his depictions of the American West.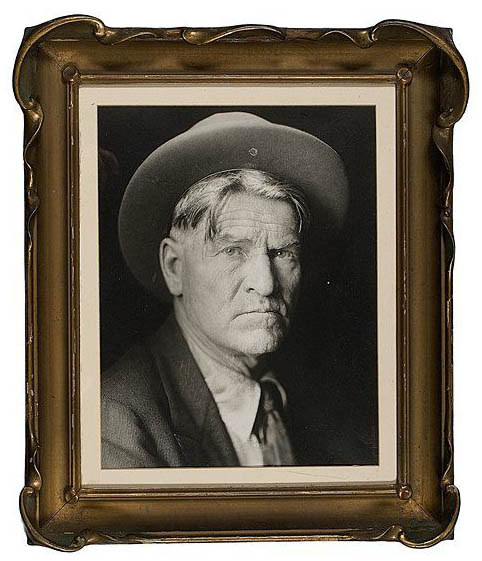 An anonymous silver gelatin photograph of Charlie Russell. (p4A item # E8950793)

Russell was born in Saint Louis the son of a prominent family. He was expected to remain close to home and eventually take over his family's coal and brick business, however, Russell was never interested in this type of life. As a young boy he was always fascinated with cowboys, Indians and other popular stories of the West. He spent his boyhood days riding horses and sketching imaginative frontier scenes. Finally, in 1880 at the age of 16, Russell traveled to Montana, unknowingly beginning a journey that would last the rest of his life.
Initially, Russell had few intentions of truly establishing himself as a reputable artist. He worked in Montana as a cowboy, cowhand, trapper and hunter. All the while he sketched and painted. Slowly he acquired popularity, yet he gave his works away to friends or in exchange for other services. His lack of formal training in fine art only added to his popularity. It was Russell's humility, gregariousness and wanderlust that gained him gradual recognition.
In the 1880s, Russell became increasingly well known in the state of Montana, and commissions began to trickle in. His first published work was in Harper's in 1888.
In the late 1880s, Russell spent over a year with the Blood Indians in Canada. This experience deeply affected the manner in which he portrayed his Indian subjects. Aside from his realistic style portraying animals and cowboy subjects, Russell was conscious of Native Americans' plight during his time. He sympathetically portrayed them, bestowing upon them quality of nobility and courage.
Charles Russell's life changed drastically in 1896 when he married his wife, Nancy Cooper. He relocated with her to Great Falls, Montana. His wife assumed the management of his financial affairs, and urged him to pursue his artistic career in earnest (rather than simply giving away his work). With her assistance, Russell exploded onto the national scene in the early twentieth century. He traveled East to New York several times to exhibit his work and to witness one man shows in his honor.
"Cowboy Charlie" Russell died and was buried in Great Falls, Montana in 1926, and he remains one of the most famous artists of the American West. His lack of awareness concerning the importance of his times allowed him to paint in a uniquely realistic manner. Russell's lifestyle of living in the present and his humility were aspects that allowed him to reach great fame and establish himself in stories of Western lore.
Information courtesy of Cowan's Auctions Inc.