William F. "Buffalo Bill" Cody
The year 1883 neatly divides William Cody's former life as a hunter, scout and guide from his later career as a showman. He was 37 in this year of transition.
The early life of William Frederick Cody (1846 to 1917) was colorful, adventurous and, thanks to Dime novels, exaggerated. He fought for the Union Army in the Civil War at 18. By 21, he earned his lifelong nickname by hunting buffalo and supplying the meat to the Kansas Pacific Railroad. At 22, he helped locate Tall Bull's camp at Summit Creek, Colorado, and killed a number of Cheyenne in the battle. Eight years later he killed and scalped Yellow Hair (mistranslated as Yellow Hand even in a document in this data base), a Cheyenne chief at the battle of War Bonnet Creek, Colorado. He later regretted the murder and campaigned for Indian rights. He probably also rode for the Pony Express for a few months. He was an accomplished Indian scout, buffalo hunter, guide and marksman.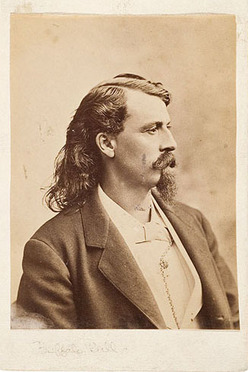 Cabinet card photograph of Buffalo Bill Cody. (p4A item # D9877572)

In 1883, he formed Buffalo Bill's Wild West, a show featuring living legends of the Wild West. The show toured the country and England reenacting battles and events. At various times, the show included Will Bill Hickok, Bronco Billy, Texas Jack, Sitting Bull, Tim McCoy and Annie Oakley. Wild West was a success for 30 years. Nebraska Governor John Thayer commissioned Cody an honorary colonel in 1886. Cody revered the title and used it in his show's publicity and throughout the rest of his life.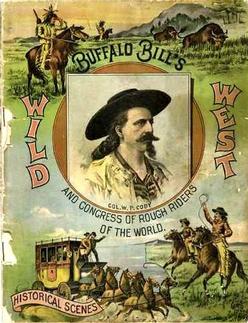 Program from an 1891 performance of Buffalo Bill Cody's Wild West Show. (p4A item # A079740)

Beginning in 1910, Cody began a series of Wild West farewell tours that ended in Denver, Colorado, in 1913 where the show went bankrupt. All of the tents, seats, animals, wagons and his prized phaeton coach were sold at auction. Cody followed that loss with a role in a film that recreated his exploits.
Throughout his life, Cody invested in mining, live stock, ranching, coal and oil developments, film making, tourism and publishing. In 1895, he and others developed land around Yellowstone National Park into the town of Cody, Wyoming. Although his boyhood home near LeClaire, Iowa, was moved to Cody in 1933, Buffalo Bill and his family lived primarily in North Platte, Nebraska and Rochester, New York. He is buried on Lookout Mountain, Colorado.
Reference note by p4A.com Contributing Editor Pete Prunkl.