An eighteenth century New Hampshire black-painted and carved Queen Anne armchair with rush seat

p4A ItemID D9694902

Two stools with needlework covers, splayed twisted legs and ball feet, New England

p4A ItemID D9692435

A mortised bench shaped legs and a molded apron, of Pennsylvania origin

p4A ItemID D9688847

Fine American Paint-Decorated Small Dower Chest, Pennsylvania, circa 1800

p4A ItemID F7970108
The M. Austin & Jill R. Fine Collection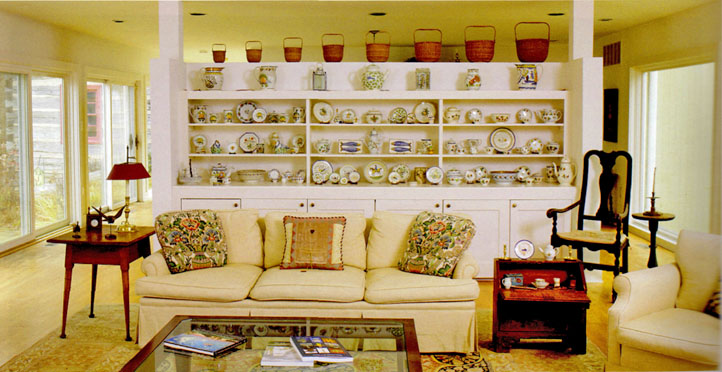 Marcus Austin Fine's passion for collecting American Folk Art
played an integral role in our family life. There are so many
memories. Vacations and drop-offs at summer camps and colleges always included stops off the beaten path to visit antiques dealers, auctions or shows. At an early age, my sister and I boycotted these visits, remaining in the stifling car reading teen magazines. Many years later, I received a phone call from dad who had successfully chased a cupboard somewhere in New England. In the middle of a blizzard, he requested that I drive out to the house to accept its delivery. I drove through blinding conditions and trudged through snow drifts down the long and winding driveway to greet a none-too-happy deliveryman. To top it off, the cupboard had to be jockeyed up a ladder and through an upstairs window. Once while in Boston visiting friends, father purchased two return plane tickets to Baltimore, one for me and another for the strawberry tea set he had bought at auction. I well remember a conversation with Harold Sack. He asked me what I collected and I replied by saying my father's rejects. His response was that was better than what he collected; his mistakes!


Over the years since his passing, we continue to hear "Austin stories" from close friends and acquaintances. Father's pursuits were legendary. Many a friend was invited to take a quick drive only to find themselves in another state, or two, or three. No object was safe once Austin set his sights on it. He so enjoyed the chase. His passion for collecting America folk art provided the energy that allowed him to build a renowned collection as well as make wonderful friends. Mary Allis, Joe Kindig and Peter Tillou were high on the list of dealers who Austin turned to for the treasures that were part of this collection. Our mother, Jill, was always by his side, sharing his passion in her own quiet way most of the time. In fact, it was Jill who started it all by asking Austin to buy a bowl for the dining room table. Each piece tells a story that our parents loved to recount.

Father also enjoyed his many projects and approached them with the same passion. One of his main projects also became mine. As a member of the board, he founded the Baltimore Antiques Show to benefit the Baltimore Museum of Art.

His goal was to make it the best in the country. He hand-picked many of the top dealers from whom he made purchases over the years. After his death, at too young an age, it became my legacy and I co-chaired, chaired and managed the show ten years, striving to assure that it lived up to his expectations.

Our parents were respected collectors of Americana and also founding members of the American Folk Art Society. Additionally, they established a gallery at the Baltimore Museum of Art to preserve a portion of their collection. After our father's death, Mother had a vision that Barbara's husband helped her fulfill by designing a contemporary home to se the collection. With its large glass windows providing breath-taking views of the Maryland countryside, its white s and wonderful light, the home showcased the collection of painted furniture, ceramics, paintings, frakturs and tins in a museum-like setting.

It is now our turn to present the Austin and Jill Fine Collection and to invite you to share in their passion. It is indeed to part with this collection that our parents lovingly assembled over more than a quarter of a century. We hope that these treasures in new hands will bring the same pleasure, foster more collectors and generate additional stories. But always remember, yes, it was about the chase, but as important, the friendships forged along the way.

Barbara & Kathy
'The Fine Girls'
Jill and Austin Fine were a unique couple who enjoyed life together outside of the box. Austin's passion, intellectual curiosity and love of American art, especially the decorative arts was truly a treat to encounter. Jill was very devoted to Austin and loved the hunt as well as the friendships they developed over the years of collecting.
The cup was always half full as Austin pursued a piece he lusted after. One day Jill and Austin arrived at my house to see what new treasures I had collected. They asked to see the third floor where my private collection of furniture and American folk art was displayed. I was quite specific in saying that nothing was for sale however they were welcome to enjoy themselves. Undaunted, Austin proceeded to pressure me into selling them a wonderful pair of New England country Queen Anne chairs (lot 630 in this sale). I teased him that he most likely could not financially manage the cost of these chairs. At that moment Jill spoke up and said "Come on Austin; let's leave. Peter doesn't wish to sell anything from his collection to beginners like us." I laughed and conceded to Jill, who was Austin's "straight man" so to speak, that this was her most brilliant line yet as she attempted to heap the guilt on me. Of course, during their next visit I acquiesced and Austin and Jill won the chairs. What fun we all had.
This marvelous sale of Americana which Jill has been the keeper of since Austin's death is certainly a fine tribute to their love of
the American decorative arts. Jill and Austin were loved and respected by an endless array of friends and characters. I feel blessed to have shared some of the American dream with during their early years of collecting.
Peter Tillou
LEEDS "PEAFOWL" OR "PEACOCK" PATTERN WARES




Top row, left to right lot 544, lot 545, lot 548 Bottom Row, left to right: lot 585, lot 691, lot 546

The Fine collection provides an excellent opportunity to study the decoration of late eighteenth and early nineteenth century pearlware, in particular the variety of birds commonly identified as "Leeds Peafowl" or "Peacock" pattern wares. In their book Feathers and Foliage: The Life and Times of the Pearlware Peafowl, George and Mickey Deike categorized the numerous peafowl patterns they had carefully researched into families exhibiting identifiable traits. The groups in their "Aviary" were then given names derived mostly from friends, family or obvious characteristics. Taken together these fifty known types illustrate a wide array of design with regard to each bird's shape, color, position, the foliage and the bird's relation to the foliage. The Deike's noted that while the pattern and colors were very consistent within each group, various artist's hands were revealed in the bird's subtle individual characteristics. They used sherds from archeological digs to help determine origin and compiled lists of the forms particular to each bird type. Although they were working with the goal of linking each bird to a specific pottery, in the end they weren't sure their findings could be definitively proven. Obvious differences regarding color aside, the Deike's system will be used to point out the individual characteristics that distinguish a particular pattern, which makes the study of these birds so fascinating.

The birds depicted on the four dated wares, lots 544, 545, 548 and 585, and the bowl depicting the songbird, lot 691, are precursors to these later birds.

M. AUSTIN FINE – A PIONEER COLLECTOR WITH A VISION



Austin Fine started collecting in the early 1960′s when there was very little published information to define the good, better, best of American Folk Art and Decorative Arts. Yes, he had great advisors such as Mary Allis, Jeff Miller and Peter Tillou but somehow Austin had the innate ability to seek out and collect the best of what past generations of country folk had acquired to dress up their rather drab homes. When Austin passed away in 1986, Jill divided the collection and kept her favorite pieces. Her son-in-law, Michael Justin Dowling, an architect from Annapolis, designed a modern home for Jill to showcase these special pieces.
In the eighteenth century most country dwellers devoted their time and money to providing their family with the necessities of life; food, clothing and shelter. There were a few families that could afford to dress up their homes and surviving pieces are extremely rare. Austin was able to acquire several painted and decorated pieces from the eighteenth century including the Massachusetts William and Mary chest with the bird and sunburst decoration (lot 549) and the two Connecticut painted and decorated chests (lots 574 Bid 616).
By the beginning of the nineteenth century many rural families had a little extra money and time to devote to making their homes more comfortable and colorful. What Austin collected from that century was captured by Sumpter Priddy in his landmark book 'American Fancy." One of Sumpter's theories was that the invention of the kaleidoscope opened eyes to the joy of fancy and colorful objects. The star quilt (lot 531) clearly shows the influence of the kaleidoscope on interior decoration in rural America. As you leaf through the pages of this catalog pull down your copy of "American Fancy" and see the similarities time and time again.
The collection of colorful English pearlware, much which was made for the American market, was part of "American Fancy" of the nineteenth century. The peafowl, beehive and strawberry decorated pieces were a favorite of rural Pennsylvanians and certainly of Austin and Jill.
American painted tinware was very popular with homemakers in New England, Pennsylvania and the other middle-Atlantic states. The "tin peddlers" traveled the countryside with a good selection of these wares which they traded or bartered for cow horns, hoofs and other by-products of farming. Most of the tin was utilitarian and did not survive in good condition. There are always exceptions and the early collectors Blanch and Abraham Harpending of Rochester, New York assembled an important collection of American painted tinware in spectacular condition. Austin rarely missed an opportunity and acquired over twenty pieces from this important collection.
Starting in 1996 Gina Martin and Lois Tucker have published four hard-bound, full color volumes identifying the tin shops from Maine to Pennsylvania where many of the pieces in the Fine collection were made. A lot of the shops have been identified, but many decorators were employed to do the fancy painting. Very little is known about the decorators, but the Connecticut dome top trunk with painted bird decoration and stenciled name "Hannah Barber" on the back (lot 512) may open a window to discovering more about the decorators. Barber is certainly a common surname in Connecticut.
Without the four books by Gina Martin and Lois Tucker the attribution to specific tin shops of many of the pieces in the Fine collection would not have been possible. In addition we have tried to use the terms for the forms that are listed in the books from original tinsmith's sales invoices. I certainly recommend to anyone interested in the subject to acquire this set of books published by the Historical Society of Early American Decoration Inc., Farmers Museum, Cooperstown, New York.
Ron Bourgeault
Courtesy of Northeast Auctions